Collaboration brings success to Canton 24-Hour Theatre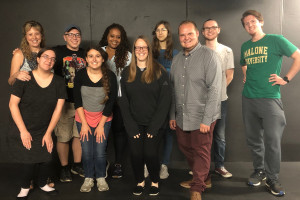 Malone University's 24-Hour Theatre tradition brings people together to build community through collaboration revealed on the stage. This fall, the stage was extended to the Canton community with the introduction of the Canton 24-Hour Theatre presented by Avenue Arts Marketplace and Theatre. David Lee '17, Avenue Arts Marketplace and Theatre's Producing Artistic Director, and Tammie McKenzie, Malone's Director of Theatre, came together to orchestrate the event.
Like Malone's event, this production took place over the course of 24 hours; from writing to casting, rehearsing and producing, to tech and performing. The end result was four 10-minute plays performed by actors and directors in the community, including the Malone students pictured above.
"We could not be happier with the response that we received from the writers, directors, actors, and the audience," said Lee. "Everyone was in disbelief that just 24 hours prior to the performance, the shows had not been written or rehearsed! It's one of the most satisfying things, to bring people together who may have never collaborated before to create something beautiful for the community in the form of live theatre."
Lee holds a Bachelor of Arts in Communication from Malone. As a student, he worked with McKenzie in class and in other 24-Hour Theatre productions as a director.
"I'm so blessed to have been able to collaborate with Tammie on this project, as she is someone I truly admire and respect," he said. "The model of Canton's 24-Hour Theatre is the same one that started under her direction at Malone years ago and I'm so honored that we could bring this cherished Malone tradition to our surrounding Stark County neighbors at Avenue Arts Marketplace & Theatre."
The success of the production, thanks to the collaboration between Lee, McKenzie, and the community, has ensured that it will continue as an annual event.