Communication Arts graduate gives back to Malone through teaching
Tiffany French-Guzman '04 chose Malone because Malone chose her, in more ways than one.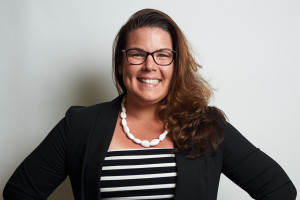 In 1999, French was recruited by the head coach Charlie Grimes to join the track team as a thrower. Her parents were Malone alumni (1969) who encouraged her to make a visit to campus and she signed shortly after.
French embraced her chance to do it all.
She studied communication arts with concentrations in public relations and journalism, was a 2x All-American in the shot put, set school records for Malone, and was on staff for The Aviso, the then Student Activities Council, and eventually became Co-Director of Intramurals for her senior year.
Malone helped French gain the tools and experience she needed to enter the workforce.
"I was so blessed to learn from Ann Lawson and she really became a wonderful mentor for me," French said. "Ann is the reason why I chose Public Relations. She motivated me to pursue my Master's degree so that I could one day come back and teach college classes, just like she did! Ann really was a wonderful example of what was and is possible in one's career."
In the 10 years that followed her Malone graduation, French worked for a number of companies and non-profit organizations in the communications, marketing, and public relations industries.
In 2014, she worked for Apple in sales. Before she quickly transitioned to their local business development team, Apple gave her an opportunity to let her relationship-development skills shine. One of her clients (Paul Mitchell) took notice of her excellence in the workplace and persuaded her to join their team. So she left Apple and filled a necessary role at one of their schools in Cleveland. Five years later, she now serves as Director of Enrollment for Paul Mitchell The School Cleveland and Columbus leading a team of five.
Ann Lawson, assistant professor and newly appointed director of admission, and Andrew Rudd, chair of the department of communication, visual, and performing arts, reached out to French with an offer to teach Introduction to Communications at Malone.
"Tiffany was an outstanding student and a leader in the classroom and on campus," Lawson said. "Her belief in the value of a Malone education, professional experience, and graduate degree make her ideal to teach in the CVPA Department. Students will certainly appreciate that she's a joy to be around."
For French, the experience of teaching has been not only fulfilling, but also gave her an opportunity to learn from her students.
"One of the most interesting and fun topics I teach is about building and delivering an informative speech,'' said French. "I love the creativity my students bring to the table with these speeches! Last year, students presented on topics ranging from 'how to bake a cake from scratch' to 'how to build your own computer.' This gave me a personal glimpse into the activities and hobbies that my students enjoy outside of class."
As French returns to teach at Malone again this fall, she hopes to leave a long-lasting impact on her students.
"I want to be the example of Christ that we all strive to be in our daily lives and I hope they leave my class with a stronger understanding of human communication than when they first began.