Compassion for others leads to social work award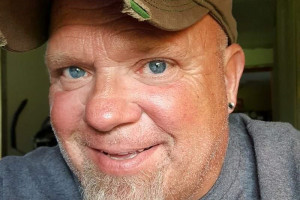 With a passion for combating food deserts in Stark County, Bob Hurless '20 will cross the commencement stage this spring ready to serve in his community. Social Work is his second career after serving in the military, and it opened the door to many opportunities to pursue a profession that will help others.
"I chose social work because it mirrors my values, and I want to empower others to pursue a better life," he said. "I feel supported by the social work department and everyone I've met here wants me to make a difference in my community and world."
Hurless' dedication to the community was recently acknowledged when he was selected as the 2019 National Association of Social Workers (NASW) Ohio Chapter, Region 8 BSW Student of the Year. Later this month, he will receive the award at the 2020 Social Work Month Celebration Gala in Columbus. He was nominated for the award by Elizabeth Patterson Roe, chair of the department of social work.
"When I first had Bob as a student, I could tell that his heart was easily broken for the needs around him," she said. "He embraces every opportunity for learning and service by living out our social work knowledge, values, and skills in practical ways on campus and in the community."
Hurless serves on the Science, Technology, Engineering, Art, Music, and Medicine (STEAMM) Academic Advisory Board, is a member of the Stark County Food Council, co-president of Social Work Club, and currently interns with Hartford Middle School's agriculture department.
"I am so thankful and blessed to have been nominated for this award," he said. "I never want to forget the people who helped me get here. I give thanks to God for giving me a heart for people, Dr. Hoyt-Oliver for believing in me, and Dr. Roe for nominating me. All of my peers in the social work program have encouraged me and Malone has provided so many opportunities. I found my passion and am humbled that God is using me to help empower and encourage those around me."