Counseling program graduates earn 100% pass rate on licensure exam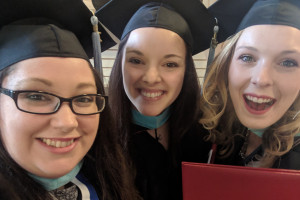 The Counseling and Human Development Department is thrilled to announce that all 2019 graduates from the Master of Arts in Education: Clinical Mental Health Counseling program have passed the National Counselor Licensure Exam on the first attempt.
"A 100% pass rate on the National Counselor Examination for licensure is a tremendous testament to the high caliber of our graduate counseling students," said Kara Kaelber, program director of the Counseling & Human Development programs. "It also speaks to the quality of our faculty and the Clinical Mental Health Program at Malone University."
There remains a growing need for skilled and compassionate counselors, and Malone is committed to meeting that need in Stark County and beyond. Under the direction of Kaelber, the Counseling program has seen a significant increase in enrollment and continues to produce quality, sought-after individuals upon graduation.
"We are so proud of our graduates' accomplishments," she said. "Our graduates are known as servant leaders who are effective, holistic counselors, clinical supervisors, counselor educators, social and political advocates. Malone graduates rise to the top of organizations as directors of mental health agency programs, owners of counseling private practices, and CEOs of mental health agencies, and substance abuse treatment centers."
As the program continues to expand and thrive, additional expert faculty were vital for ongoing success. During the summer of 2019, Malone welcomed two new counseling faculty members to its staff, Katie Gamby, Ph.D., LPC, CWC and Emily Mupinga, Ph.D., LPC, NCC. Both Gamby and Mupinga come to Malone with years of expertise in the field and excitement to contribute to the success of the department.