Creative Writing graduate releases two books with Barbour Publishing during pandemic
Ellie Zumbach '19, creative writing graduate, wants to help others through her love of stories because she has turned to books for comfort, for answers, for escape, and for fun for as long as she can remember.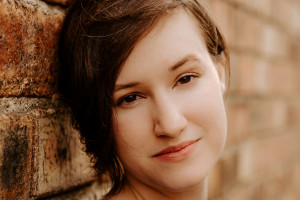 As a Malone student, her love for stories was nurtured and she found a clear sense of calling as a writer and actress.
"I chose Malone for a few reasons,'' she said. "I valued how attentive and caring our professors were with us. I liked the size of campus and I loved that they had a Creative Writing program, not just an English program. I felt like Malone was where I was supposed to be."
Zumbach had participated in theatre in high school, which led her to take up acting in college and in her career.
"When I graduated from Malone, I worked professionally with a theatre company near my hometown," she said. "I was with them until the beginning of 2020, and then I started auditioning all over Ohio. But we all know how that story ends: COVID-19 shut down all theatres and I was unemployed."
During Zumbach's unemployment, she wrote for several magazines and newspapers. Shortly after, Zumbach earned a contract to write for Barbour Publishing, a publishing house in Uhrichsville.
Zumbach's most recent book, God Calls You Strong, Girl, releases in October of 2021.
"I wrote the book God Calls You Strong, Girl for who I was in high school. I wrote it to the girls who are lonely and love deeply," she said. "I hope it brings comfort and light to the truth that no one is alone. There are people out there that understand and care."
Zumbach's first book, 180 Prayers for a Woman of Confidence, was published in early Spring 2021.
"I was approached by Barbour Publishing to write 180 Prayers for a Woman of Confidence," said Zumbach. "At first, I was so nervous to accept because I was worried that I wouldn't say the right thing or fulfill what they needed from me. So, in other words, I wasn't confident in myself! I soon realized that what was holding me back was what I was asked to write about. It is so important that women find confidence in their faith and themselves so they can share their voices and follow their dreams. I hope this little book brings comfort to my readers and is a prayer-starter for conversation with the One who gives us our dreams."
Zumbach values her faith and lets it shine in her life the best she can.
"The first image we see of God in the Bible is that of a Creator. He forms the world," she said. "I have been blessed with the same desire to create, and I find the most joy and peace when I am writing or performing on stage. To me, being true to your art or your passion in any aspect is an act of worship. When I take in art -- be it a book, a painting, a play -- I can see that as a gift from God because what can be more beautiful than taking nothing, making something, and then sharing it with others? I try to remember that when I create. The very act of doing it is what makes it worth it."
Zumbach will continue to write for Barbour Publishing and has moved into a full-time position as the Assistant Managing Editor.
"While most of my publications right now are nonfiction and inspirational, I am working on several fiction projects that I am trying to do the "traditional" way, which means securing an agent, querying publishing houses, and actually finishing and being okay with a final draft of a novel," she said. "My education at Malone has helped me create plans to make my dreams a reality."