Daniel Bancroft '16 Went from Canton to Tulsa to Ukraine
For Daniel Bancroft '16, a biology major, Malone University is a family affair.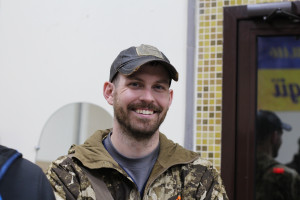 "My grandpa, who was Malone's first basketball coach and was on Malone's board, and my grandma, attended Malone when it was still Cleveland Bible College. My aunt, my dad, and my brother who was a year ahead of me all came to Malone as well," said Bancroft. "Malone also offered excellent academics, especially preparing for post-graduate work. Coming to Malone was really a family thing. I was very comfortable with that choice."
Bancroft's familiarity with Malone allowed him to settle in for his rigorous studies while still forming relationships that would last for the rest of his life.
"I lived with my brother and we both studied a lot due to majoring in the sciences, but simple things like hanging out with our friends in the dorm were a lot of fun. We played a lot of intramural sports. We won the flag football intramural championship and got to play the championship game on the Football Hall of Fame Field," he said. "I met my wife at Malone, so obviously that's a highlight. We started to date after being biochemistry lab partners, which caused us to spend a lot of time together. My brother and I went home a lot on weekends, and our buddies from Malone would come along to hunt and fish with us."
Bancroft, while always focused on his academics, didn't really see himself going into medicine from the start.
"My dad is a veterinarian with his own practice, and it was my plan to join him. My brother had the same idea and was studying pre-med as well, and the goal was for all of us to work at the practice together. I was pre-med for a few years, and I shadowed my dad for over 600 hours at his practice and worked on farms, but I just felt the Lord saying that I wasn't supposed to do that," he said. "After a lot of prayer I ended up taking the medical college admission test even though I didn't have all the classes for it yet, but by a lot of studying and God's grace got into medical school the first year."
This Spirit-led career shift took Bancroft to In His Image Family Medicine in Tulsa, Oklahoma, where he currently is in his third year of residency.
"I am currently the chief resident of our residency program. There are ten residents per class, and then there are other attending doctors who are over us. One or two third year residents are picked to be essentially 'junior faculty.' I go to all the staff meetings, and I'm the resident representative in those," he said. "If either the residents or the faculty are having a problem I, or my co-chief, communicate that to the appropriate group to work that out. I'm also in charge of making all the schedules for the hospital, and unfortunately if someone calls off at 4 a.m. sick, I'm the one who gets the phone call and has to figure out how to cover that shift. I'm the bad guy a lot. On Christmas, I had to call someone in from out of state, which is never fun."
Through hard work and a standard of self-excellence, Bancroft was chosen for this position by his superiors, as well as his peers.
"I was selected for this position by a committee which considers many factors. They survey all the residents, and they rank different people for different positions based on their strengths and qualifications," said Bancroft. "As chief resident I have to have the respect of my peers as well as the faculty due to the responsibility of the position. It's a lot of work, but it's very rewarding and I'm thankful for the opportunity."
In addition to his work in Oklahoma, In His Image has found ways to utilize Bancroft's talents beyond the states.
"Our residency program's goal is to continue the Great Commission through healthcare. When the conflict in Ukraine started we began to send trips there. We had sent four, and the fifth was going in October, which I was supposed to go on," he said. "However, my wife was 12 weeks pregnant with our second child. As I was getting ready to leave, she began to have complications with her pregnancy so I canceled the trip. She was on bed-rest for months, and the Lord taught us a lot about patience and trusting him through that."
After a bit of time, the call to Ukraine remained in Bancroft's mind.
"After our second child was born, our program's director told me there was another trip going to Ukraine and that I should pray about it. At the time I couldn't imagine leaving my wife and kids. However, we prayed about it and my wife told me that I should go," said Bancroft. "After I said yes, I realized that we were going to a city that was actively being shelled, but the first week that we were there ended up being the first week that the city was not shelled which was one of the many ways God intervened to keep us safe on the trip. The goal was to partner with a lot of the churches in town to set up makeshift clinics. We had interpreters who spoke Russian, and with their help we would see people, diagnose and treat them with free medicine, and give them medical advice for the future. The churches were the only safe water supply in the city, so people would come to get water and see that there was medical care and get that as well."
In light of a dangerous situation, Bancroft was still able to show the love of Christ to those he was treating.
"Because of the proximity to the front lines, tanks would often roll by at night rattling windows as Ukraine would reposition its troops. As a result many of the patients we met would ask why we would come here? We could then tell them that we felt God had called us to come help and show the love of Christ. As a result of that, a lot of people got saved. But just as significant I think, Christians who were already serving there were able to see that the Body of Christ in America is deeply concerned about their well-being. Seeing and experiencing the love of Christ amongst our brothers and sisters in Ukraine was remarkable. Being able to go there and see how the love of Christ present in the Church transcends national boundaries was deeply moving for me, as well as the Christians we met, and the unity of the group, which consisted of 3 different countries, was nothing short of miraculous."
Through all the twists and turns in his life, Bancroft is able to look back at his time at Malone and appreciate the multifaceted foundation a Malone experience gave him.
"All of my professors at Malone pushed me really hard. The classes were academically rigorous and that helped prepare me for medical school. The foundation they laid was phenomenal. All of my friends who went on to medical school would say the same thing; we all felt very prepared," he said. "Spiritually, I was able to connect with people who were well founded and connected with the Church. Randy Heckert, who was the chaplain at the time, really showed me that the Christian faith has deep, old roots that I can draw strength from when I need to, even today. Being in a new environment and having that bedrock of faith was awesome."
Whether his work brings him back to the Midwest or overseas, Bancroft is ready for the challenge.
"I have some interviews in Ohio set up closer to home, and I've interviewed a few places out here in Tulsa. My wife and I would like to do missions, so possibly remaining with In His Image due to their mission's focus is another possibility. We'll just wait and see what comes."