Finding connections in the classroom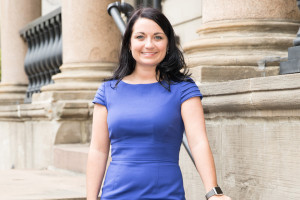 Relationships and networking are key pieces to Kaitlyn Ray's Malone story.

"I was feeling stuck, wondering what was next for me," Ray '17 said. "I've always had a goal to obtain on my horizon. After earning my undergrad degree, I went into the workforce and built a house. Then I wondered 'I've conquered all that, now what comes next?'"

Ray's mentor and colleague suggested that she investigate earning her master's degree at Malone University. Her mentor also came to Malone and highly recommended the program.
Ray thought the timing was perfect. She was newly engaged and believed that earning a master's degree before she started a family was her best choice. Her mentor suggested the Master of Arts in Organizational Leadership (MAOL) path, so she attended a Graduate and Professional Studies Information Night and decided on the spot to apply. She was accepted! The admissions process went quickly and smoothly, and she started classes within a week!
Ray leaned into the classwork with her characteristic determination. The courseload helped improve her organizational skills and time management. During her 16-month program, she planned a wedding and got married.
Ray believes that her Malone professors prepared her for more than just success in the workplace.

"I understand people better and what motivates them," she said, referring to the team she leads at ComDoc Xerox, as well as her relationships outside of work.
Another aspect that Ray valued about the Organizational Leadership program was the broad array of people she encountered in class.

"In the MAOL, we had a pastor, someone from a non-profit, school counselors, teachers. We could draw from each other's experiences," she said. These peers deepened her academic and personal experience and she formed relationships that have lasted well beyond the classroom. "I keep in touch with many of my classmates to this day. The relationships that grew during this time have been priceless."