Former Trustee chair publishes memoir about his father's legacy
As the now retired Vice President of Global Human Relations Services for Goodyear Tire & Rubber Co., former Malone University Chair of the Board of Trustees Donald Harper achieved much more worldly success than his father, a farmer with a third grade education, ever could have dreamed. But Harper credits his parents, Lloyd Sr. and Walter Mae, for instilling in him faith, humility, wisdom, and love – and has recently honored them with a book published in 2016 entitled, Blessed is the Man: A Legacy of Faith and Family Values .
Don grew up in the segregated South in Perry County, Alabama. In 1942 – in the midst of the Jim Crow era and at the height of the Great Depression – it speaks to Lloyd Harper's reputation and work ethic that he was able to secure a loan to purchase his 80 acres of prime farmland on which to raise his 12 children.
Don noted that whenever he returns to his hometown, "People will stop me and ask, 'Are you Lloyd Harper's son?' When I tell them I am, they share with me stories about the impact Dad's kindness had on their lives, testifying to his love for the Lord and the integrity of his character. These might be common conversation topics after a recent death, but Dad died more than 50 years ago."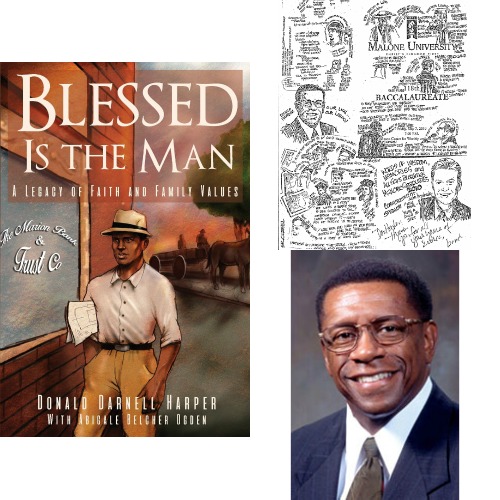 Don graduated from college at the age of 31 after attending night school for seven years and went onto an illustrious career that included 33 years in human resources for Goodyear. He became acquainted with Malone University through former Malone president Ronald Johnson and served on the Board of Trustees for 12 years. Harper is the institutional advancement chairman at Anderson University in Salem, S.C., where he lives with his wife of more than five decades, Gerri.
Harper served as Malone's Executive in Residence from 2003-2005, and was Malone's baccalaureate speaker in 2010. A program illustrated by retired Professor of Art Barbara Drennan is included in his book on page 167. There is also a segment in the book that details his friendship with retired Malone President Ronald Johnson.