Foundation for Success
Kathryn Bzdafka '08 completes first season at helm of softball program and looks for continued growth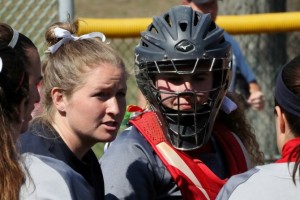 Kathryn Bzdafka '08 says that returning to Malone to lead the Pioneer Softball program has been "unreal."
A four-year starter for the softball team from 2005-2008, Bzdafka took the reins of the program in June of 2015 and guided Malone to a 13-28 record this her first season, nine-win improvement over the previous season.
"This is a community of unbelievable staff and student servant-leaders," commented Bzdafka. "The chance to come back and represent Malone is not something I take lightly. To have members of the athletic department volunteer their time to invest in the softball program is unique and doesn't happen at a lot of places."
Three members of the Pioneer softball team were named to the 2016 All-GLIAC (Great Lakes Intercollegiate Athletic Conference) Team for their strong performances on the field; six players were honored for their work in the classroom by collecting GLIAC All-Academic recognition.
"The biggest thing I've taken away from my first season back at Malone is that our student-athletes are difference makers," said Bzdafka. "We were realistic about where the program has been, where it is now, and where we want it to be. Each girl on the roster believed that the program could be successful and that she could make it so. We walked the walk every single day. We prepared ourselves well and executed both in the classroom and on the field. Opposing coaches heaped compliments on not only the physical toughness of our young women, but their mental toughness and resiliency."
Prior to returning to her alma mater, Bzdafka was assistant softball coach at Notre Dame College. As the hitting and outfield coach, she helped guide the NCAA Division II Falcons to a Mountain East Conference Tournament Championship.
Athletic Director Charlie Grimes has high praise for the leadership of Bzdafka and her early contributions.
"Kathryn is a conscientious and diligent member of our staff," noted Grimes. "She has worked hard to learn the ropes here as a head coach, and has built great relationships with our students, rapport with our staff. I look forward to seeing our team succeed both on and off the field under her care."
Bzdafka was a three-time All-AMC (American Mideast Conference) selection at the shortstop and pitcher positions for the Pioneers and garnered NCCAA (National Christian College Athletic Association) All-America Honorable Mention accolades. She earned her bachelor's degree in Integrated Language Arts from Malone and then completed her master's degree in Education from Notre Dame in 2015.
With the solid foundation established in her first year as head coach, Bzdafka is looking for continued growth and improvement as Malone begins competition in the Great Midwest Athletic Conference (G-MAC).
"Last year was absolutely a foundational year for the program," said Bzdafka. "We still have a long way to go, but this past season has set the standard of expectation pretty high. My goal for the 2017 season and beyond is to continue developing champions. If we do the little things right and control the controllables, the big things will take care of themselves."