Getting to know Zoo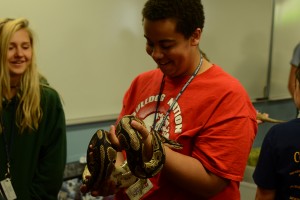 A partnership between Malone University, the Canton City Schools, and the City of Canton is introducing high school students to careers in zoo & wildlife biology and in doing so, developing within students the desire to pursue a college degree.
The brainchild of Rollin Seward, Director of Community Development for the City of Canton, the collaboration has led to active engagement between students attending McKinley Senior High School and students and faculty involved in Malone's zoo & wildlife biology program. Students representing the Malone Zoo Crew -- an outreach team that takes animals into local schools -- recently visited McKinley for a hands on learning experience involving animals from the Malone collection. Additionally, McKinley students who expressed interest in learning more about Wildlife Careers and/or Malone University, came to Malone's campus for a Career Day experience. They toured Malone's on-campus animal collection and went on a bird hike at Sippo Lake Park during which they were taught how to identify several native birds by sight and sound.
"Many of our students have never been on a college campus," said Seward. "Many would be the first generation of their family to attend college. The program introduces them to a field of science where minority students are underrepresented. It also gives them a taste of what learning at the college level would be like and, hopefully, fosters their interest in continuing their education."
The zoo & wildlife biology program at Malone is one of the university's most popular majors and prepares students for careers working with animals. Malone students have many opportunities for experiential learning with the Malone animal collection featuring small mammals, reptiles, birds and other animals and through partnerships with facilities such as the Cleveland Metroparks Zoo.
"We're thrilled to be a resource for our partners in the Canton City Schools and to introduce students to possible career paths in science," said Malone Provost Nate Phinney. "In our conversations with science teachers at McKinley we learned that often times it is easier to get students interested in physics or chemistry because of the physical objects associated with these fields. It can be more difficult in biology, but connecting students to living creatures is a powerful way to pique their interest and help them imagine themselves as scientists."
Malone students benefit from the partnership as well, according to Phinney. "Malone students get to share their passion for science with a younger person. They get to practice effective communication of complex ideas and learn how to work effectively with groups, both key soft skills we develop here. Being involved in this program adds to the educational experience for Malone students."
Corina Newsome, a 2015 graduate of Malone and an employee at the Nashville Zoo directs the program.
"Corina is an example of how graduates from the program move forward after Malone and how they give back to our city after graduation," said Phinney. "Corina is not a native of Canton, but as a result of her time at Malone, she sees Canton as "home." She will continue to be successful in her field, and we have no doubt that she will continue to give back to the City of Canton."
Canton City School District Superintendent Adrian E. Allison said he is thankful for the close partnership the district shares with both Malone and the City of Canton and looks forward to seeing students engage in a new venture.
"Participating in Malone's highly respected zoo & wildlife biology program is a fantastic opportunity for our kids," said Allison. "As part of our mission to inspire confident, creative, and open-minded learners, it is important that we provide the types of experiences that inspire students to explore all college and career paths."
Next steps in the partnership program will take place June 25-28 during Malone's Zoo/Wildlife Camp which will feature animal care, nature hikes, guided tours of the Akron Zoo and Cleveland Metroparks Zoo, field identification of trees, birds, amphibians, and reptiles of Ohio, and guest speakers who work with and research animal species.
About City of Canton Department of Development
The Office of Development of the City of Canton, Ohio is responsible for overseeing Community and Housing Development of the City. Canton residents from all walks of life deserve clean, safe, and attractive neighborhoods in which they can live, work, and raise a family. Canton's citizens enjoy the largest Police & Fire Departments in Stark County, a safe water supply that will allow virtually unlimited growth for Canton and its businesses to flourish. To contact the Office of Development and/or the Development Director, please call 330- 489-3258 or visit cantonohio.gov/development