Graduate professor wins award for innovation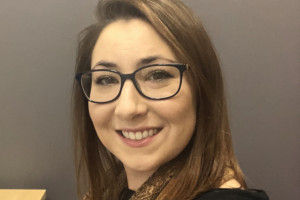 Victoria Giegerich, assistant professor in the graduate Counseling & Human Development Department, was recently awarded the Herman J. Peters Award by the Ohio Counseling Association (OCA). According to OCA, this award is given to "one who promotes innovative ideas and theories in the counseling field and has a significant impact on future trends."
Giegerich was virtually recognized for her accomplishments on October 26 during the All-Ohio Counselors Conference. A licensed professional counselor, licensed independent chemical dependency counselor, and assistant professor at Malone, she specializes in addictions counseling. She first trained in this field during her master's program where she treated patients with opioid use disorder at the Cleveland Clinic Chronic Pain Rehabilitation Program. Later, she developed an intensive outpatient dual diagnosis (i.e., comorbid substance use and mental health disorders) treatment program at Highland Springs Behavioral Hospital.
Her background added significance to the award she received.
"I am proud to actively contribute to developing innovative theories and techniques in the field of addictions counseling, specifically Motivational Interviewing (MI)," she said. "MI is a collaborative counseling style that is based on spiritual principles reflected at Malone, such as compassion, partnership, and acceptance. I am happy to see the field recognize this need and for supporting me in my pursuits of providing MI trainings and care to clients struggling with addictions."
Relatively new to Malone, Giegerich has made an impact on her department, as evidenced by her colleagues' nomination for this award through written letters of support.
"She is truly a Pioneer and we are so grateful to have her as a faculty member in the counseling department," said Kara Kaelber, professor of counseling and human development.
Giegerich is equally grateful to be at the University and her passion for innovation truly reflects her desire to help others.
"I really enjoy the collaborative atmosphere at Malone. We are definitely stronger together and I am sharpened by the ideas and perspectives frequently shared in our community," she said. "My favorite part of my counseling and teaching career is being a privileged witness to both my clients' and students' growth."