Graduate student lands internship at the LeBron James Family Foundation I Promise School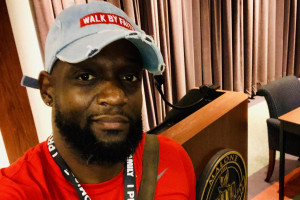 Angelo Anderson '20 is a graduate student in Malone's Clinical Mental Health Counseling program, and as part of his education, he obtained an internship at the LeBron James Family Foundation I Promise School.
He was introduced to this opportunity after his site supervisor at Minority Behavior Health Group, a partner of the I Promise School, saw him as a good fit and asked him to consider being a therapist at the School. Anderson works with third through fifth grade students in need of a mental health therapist. The necessity of this service at the School stems from the academic challenges the students have faced.
"I am most looking forward to impacting the lives of the students at the I Promise School by helping them to become healthier in all aspects of life. I want to promote healthy development in school, at home, and in the community," Anderson said. "I am also excited to gain experience in this position as a result of working with students and their families."
Malone has provided Anderson with accelerated motivation throughout his educational process.
"Faculty and staff have been very welcoming and it just felt right for me to be here," he said. "Dr. Kara Kaelber has helped me, believed in me, and has provided me with a great environment to become successful. Malone is an excellent university and they truly believe in their students."
Anderson hopes that his experience at the I Promise School will open doors to greater opportunities as he plans to continue with his education.
"The LeBron James Family Foundation has provided an amazing environment and structure for these children to be successful. It is an Akron public school and I love seeing it succeed because it reflects the positive impact that LeBron has had on the city of Akron!"