Happy 128th birthday, Malone!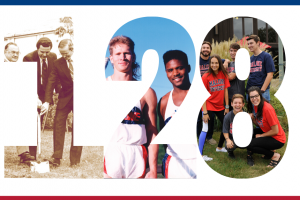 128 years ago on March 17, Malone University began impacting and equipping students for the first time as a Christian Workers' Training School based in Cleveland. Throughout the years, the University has experienced a few name changes, moved to a new city, and developed an expanded mission. It may not look the same as when J. Walter and Emma Malone co-founded it in 1892, but Malone has maintained its dedication to the integration of Christian faith and learning since day one.
Malone's 128th birthday commemorates 63 years in Canton, 59 years with Timken Science Hall, 49 years of membership in the Christian College Consortium, 33 years since the founding of the BSN program, 27 years of the Airband lip-sync competition, 12 years renamed as a university, and 7 years of athletic competition at the NCAA Division II level. This year brings:
the launch of the Pendle Hill Pledge
renovations to Cattell Library, including the centrally-relocated Center for Student Success
renovation of the space formerly known as Froggy's (outside the Campus Bookstore)
renovation of the athletic training room
launch of the Chemical Dependency Counseling program
the Youth Explosion ministry conference
addition of Emma's Coffee Shop in the Barn (Randall Campus Center)
a new class of Pioneers to Malone's campus
The gallery below includes a few photos that celebrate the Malone milestones throughout the years. Check out Malone's full historical timeline and more photos here.
Today's birthday celebration also includes our annual Day of Giving. If you would like to give a gift that supports student scholarships and enhances the overall Malone experience, you can give here
Media Gallery
Happy Birthday, Malone