History Senior Seminar class digitizes 1957-1973 Aviso newspapers
A cooperative public history project in their History Senior Seminar has empowered students to explore firsthand the ways in which Malone has – and hasn't – changed throughout its time in Canton.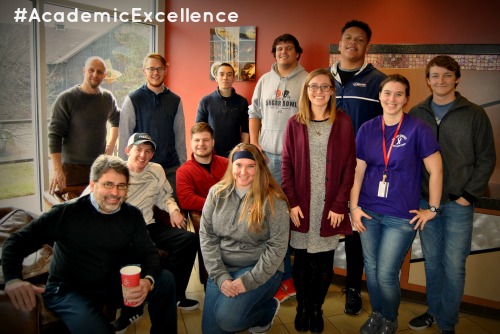 In Fall semester 2016, Professor of History Greg Miller and his students digitized the 1957–1973 editions of The Aviso, Malone's student newspaper, via The Ohio History Connection. [1957 is the year the college moved from Cleveland to Canton.]
The class worked closely with Jenni Salamon, coordinator of the Ohio Digital Newspaper Program, to scan in each of the editions for the organization's Ohio Memory, a collaborative digital library of the Ohio History Connection and the State Library of Ohio. It contains digital content from more than 360 cultural heritage institutions representing all of Ohio's 88 counties.
Students said they were surprised by some of the findings they gleaned from scouring the work of their predecessors.
"I learned that women's sports have been important to Malone even before Title IX was started, beginning with women's basketball," said Juliana Shultes, a softball player. "As an athlete, this makes me proud."
Brenson Ennis was pleased to learn that students were never shy about writing about race.
"I was reading articles about racial acceptance at Malone from the very beginning," Ennis said. "There were a lot of different groups writing about it. That was a nice view to see—both racial inclusivity and the roles of women."
Other students noticed that despite the perception of students living in "bubbles" oblivious to the happenings outside campus, students throughout the decades remained relatively aware of world occurrences.
"It was interesting to see how Malone has always been globally-minded," said Zach Murray. "For example, in the 1960s, I seemed to read more about Russia than about domestic issues."
While much has changed, noted Joe Turner, a lot hasn't changed, and many of the conversations students are having have remained the same.
"What's most important to me," said Louis Powers, "is that no matter which direction Malone seemed to be leaning, the institution has always returned to its core values. We've always come back to Christ's Kingdom First."