Honoring Emma Malone
Malone University Board of Trustees officially recognizes co-founder Emma Malone as inaugural co-president of University.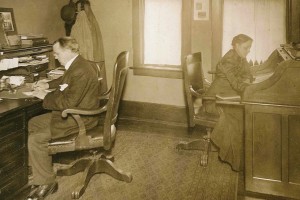 The Malone University Board of Trustees voted to rectify a portion of the institution's history at its recent meeting. As the final activity of the university's year-long celebration of the 125th anniversary of the founding of the institution, the Malone Board officially recognized Emma Malone as co-president of the Friends Bible Institute and Training School in 1892, the institution that would become Malone University. Throughout much of the university's history, Walter Malone was recognized as the institution's first president and Emma as his wife, partner, and co-founder. Officially recognizing Emma as co-president is an effort by current Malone leadership to honor Emma's imprint on Malone.
"The Board's decision is not only timely, but historically accurate," said Jacalynn Stuckey, chair of the Malone Department of History, Philosophy, and Social Sciences and professor of history. "In view of her official role as co-principal of the institution with her husband, her exceptional administrative and leadership skills, and her unwavering commitment to the intellectual and spiritual growth of her students, Emma Malone functioned as 'co-president' of the institution. Furthermore, the trustees' announcement is especially fitting given the historic affirmation of gender equality among Friends (Quakers)."
As a result of the board action, the Malones will be recognized as co-presidents in official University documents and communication, according to David King, the current and 13th president of Malone.
"Recognizing Emma in this way has been talked about informally on campus for several years," said King. "Our 125th celebration provided an appropriate backdrop for making this official, drawing much deserved attention to the many ways that Emma's contributions live on in the quality and character of the Malone of today."
Media Gallery
Honoring Emma Malone