It's not often that a 91-year-old woman is willing – or able – to join a kickline of college students.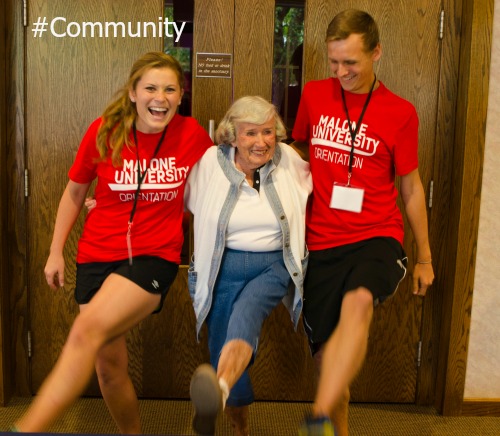 But for Betty Jewell, such energetic hijinks are a frequent occurrence. Each August, she raises money to offer incoming students Malone Associates gifts of new Bibles at Student Orientation.
Several years ago during one such event, she learned of a trip being planned to a Cleveland Indians game later that week. The spunky Oklahoman native wanted in. Self-dubbed the "Wild West Lady," Jewell rode in the college van, bought the students hot dogs, cheered until she lost her voice, and collected hugs as goodbyes.
Energetic and sharp, Jewell was born in Tulsa when the Sooner State was just 16 years old.
Her father was a prominent attorney for the oil business, and was a close friend of the late Waldo Emerson (Dode) McIntosh, Indian chief of the Creek nations, and a descendant of the Highland Scottish McIntosh clan. The chief played the music for many of Hollywood's silent movies. Of all of the Western treasures in her home — the leather saddle in the corner next to the cowboy boots she's had for 60 years, the blanket made out of llama fur, the colorful paintings on the wall, horse sculptures made of iron — the gift Jewell treasures most is an autographed copy of Dode's 1910 composition, "Around the Globe March."
Jewell moved to North Canton with her husband in 1947, and began attending a Bible study that included then-president of Malone's wife, Catherine Cattell. That friendship developed into her desire to help Malone – she is a faithful financial donor.
The Bible study had a lifelong impact on Jewell.
"Through Catherine, I saw the influence Malone was having on students — educating Christians who wanted to make life better for others," she said. "You can't have too much of that!"