Leadership with Young Life points Malone student toward career in pediatric neurology
In the winter of 2020, Juliea Dworning '24 decided to attend Malone University to pursue a bachelor's degree in Pre-Med Biology. After attending a Christian private high school, she was looking for a Christian college that would allow her to serve others and learn more about her purpose.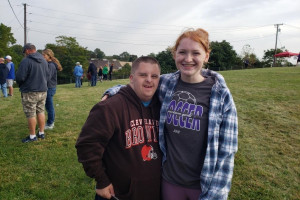 Dworning grew up with a younger brother who has Down Syndrome and Dwarfism. Growing up with a special needs sibling was difficult, but the love Dworning's family received from their church made all the difference in her faith journey.
So, when Dworning found herself at the Young Life table at Malone's RUSH event signing up to be a student leader, her goal was to be involved with the special needs young adults in the program.
"These individuals rarely have something special just for them," Dworning said. "I want to reach those who don't know Jesus and don't know they are loved. I know there are special needs youth out there who are hurting."
In one year of being a leader of the Stark County Capernaum Young Life group, Dworning has already implemented a bible study for the Capernaum students and they went to summer camp with other Stark County students for the first time.
"I'm Stark County's first-ever Capernaum leader, and it was a quick transition, but that's what I wanted," Dworning said. "I wouldn't want my schedule to look any other way."
While keeping up with her classes and being involved with other extracurricular activities, Dworning stays in touch and spends time with a couple of her Capernaum students during the week. She sees how her students grow in their faith and how she can be used to show them all of His blessings for them.
"It's really cool to be the person who steps into these students' lives to show them that Jesus loves them," Dworning said. "Not even though they're different but because they're different and that's how God made them."
Through this experience, Dworning has learned about her faith, too. The theological and intentional community she has at Malone and through Young Life has made Dworning reflect on her calling and career aspirations.
"I have discovered an authentic community in Young Life leadership and a lot of Young Life leaders go to Malone. This is the first time ever that I have a community of people who care about me. There is an authentic community at Malone if you choose to go looking for it," she said.
The deep passion of Dworning's faith is evident in the love she has for special needs young adults. She is choosing to pursue a graduate path in pediatric neurology or neurological disabilities so she can help special needs youth after she graduates from Malone.