Lindsay DeHaas '10 serves clients at Branch Counseling & Trauma Center
It was early on that Lindsay DeHaas '10 knew what she wanted to do with her life, even if she didn't admit it.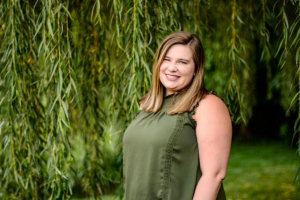 "I knew since I was a teenager that I wanted to be a therapist," said DeHaas. "But my older sister went into social work, so the rebel in me wanted to do something different. I tried business administration, but pretty early on I knew that wasn't where I should be. In the end I switched to social work because I knew that's what I needed to do. I've always felt deeply with people, and I want to connect with them."
DeHaas came to Malone because of its proximity to her home, but she quickly found that it was the right place for her in more ways than simple geography.
"The connection that I found in the community at Malone was extremely meaningful. People cared about me as a person, and the social work professors exemplified that as well," said DeHaas. "I loved them and they loved me well, and they helped prepare me for both my graduate studies and my current work. I wasn't given only an intellectual base, but also a crucial emotional foundation."
DeHaas has now started her own business in the One Center for Leadership in Canton.
"Our business is called Branch Counseling & Trauma Center, and I do intensive trauma work and traditional ongoing therapy with a variety of clients," said DeHaas.
Malone's program equipped DeHaas to effectively work with her clients in the variety of ways they need.
"I do intensive trauma work, one week per month, where I work with one client 30 hours out of the week, and we use a directive form of art or play therapy, depending on their age, to process everything from birth to present in a way that the brain needs to experience relief from PTSD symptoms," said DeHaas. "The other three weeks I'm doing ongoing hourly sessions with a variety of clients building coping skills and giving them tools for navigating life. I am so passionate about this work, and I really see God working and healing people's lives through it."
Even with her passion for her work, DeHaas is cognizant about the need for self-care and regulation to give her balance, something that her relationships at Malone prepared her to consider.
"I love people, and that can carry the most weight if you don't work actively to address it. The same things I tell my clients to do I have to be practicing as well. I need to be balanced and be in my true self to be able to do the work that God has called me to," said DeHaas. "The relationships I formed, learning how to deal with conflict and people, how to address hard academic and emotional things with a professor, that all prepared me to care for myself and care for others. And now, 12 years later, I'm thankful for the uniqueness of Malone's social work program."