Living out the "&"
LOVING GOD & LOVING THEIR NEIGHBORS. Psychology alumna Trisha (Porter) Burky '01 and her family are living out callings as pastors, church planters, and good neighbors.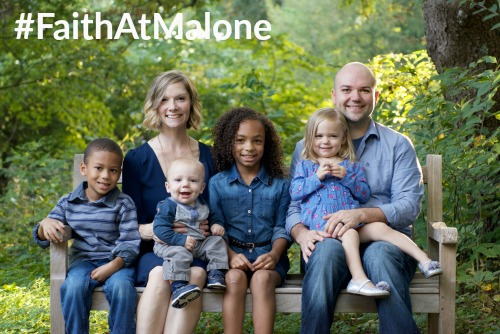 As Trisha (Porter) Burky '01 spoke to a group of current students during her talk for a Spiritual Formation Opportunity, she held a large wooden ampersand in her hands, explaining that she tries to live out the "and" principle found in Luke 10:27 in her everyday life.
"This scripture tells us to love God with all your heart, soul, strength, and mind, AND to love your neighbor as yourself," she said. "My calling is simply to love my neighbors and my friends with an extravagant, deep, and unconditional love without regard to who they are. To love them, not just be friendly."
Burky and her husband, Dennis, are missionaries and church planters. They currently live in Columbus and Dennis is a pastor at City Campus Church. However, soon they will be moving to Austin, which is the fastest growing city in the United States – and also is considered one of the most 'unchurched' cities in the nation.
"We'll basically do there what we've done here in Columbus," said Burky. "It sounds very simple, but basically we just try to be really good neighbors. We show up with cookies, invite neighbors over for cookouts, make meals for people, go grocery shopping at the same time and place each week, walk the kids to the neighborhood bus stop each morning, and have intentional, predictable patterns that allow us to show up in each others' lives."
The predictable patterns and having community with each other are vital, explained Burky.
"We do this so that we can have the opportunity to share Christ with them. That's really the heart of it all," she said. "Dennis continues to hear from other Austin church leaders that people in Austin will need community and seek community before they ever think they need or will seek out Christ. So that's the 'in' for us to be able to connect people to Christ, specifically in Austin. It's the "why" of predictable patterns here in Columbus and will be the 'why' of predictable patterns in Austin too."
The road to missionary and pastor's wife has not been an easy journey for Burky, a mom of four, a social worker and educator. But she draws compassion for others from her own experiences. Her first marriage, to an immigrant from Jamaica, included struggles with racism and mental illness. She was a single mom for a time, and also has journeyed through blending a family and grieving a miscarriage to battling postpartum depression.
"Those threads in my life have been so impactful on who I relate to and how I connect to others," she said. "Those connecting points can help bring people into community and therefore to Christ. We all have threads in our lives, and we need to pay attention to them, because it's where our passions come from. God can use the threads, even if they seem yucky and messy, to make something beautiful."