Love for the game leads to career opportunities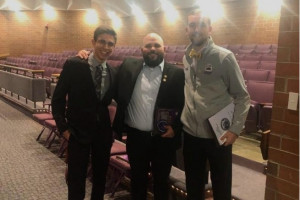 It has been said that participation in co-curricular activities like sports or the arts will hone ambition and discipline long into adulthood. For Nicholas Reese '20, a love of the game has evolved into a passion for supporting roles in the professional football industry. Through connections he built at Malone, Reese earned an opportunity to serve as a training camp equipment intern for the Los Angeles Rams last summer, showing him how to apply what he has learned as a sport management major.
"Classes are designed to prepare you for a career," he said. "We're often assigned projects that require working together in teams and gathering information. Malone creates scenarios inside the classroom that prepare students for their careers outside of the classroom."
When the Rams traveled to Cleveland to play the Browns last fall, Reese was invited to reconnect with the team and even joined them on the sideline during the game.
"My experience with the Rams reinforced to me that Malone has prepared me to be a professional," he said. "My summer duties included inventorying equipment and setting up practice gear. I felt like I knew what I was doing and if I was unsure, the staff helped me figure it out. The connections I built and the people I worked with made this experience unforgettable."
During his senior year, Reese also worked as Assistant Video Coordinator for the Jackson High School football team and for their men's home basketball games. He is pictured (left) with two Jackson football coaches. Again and again, he can affirm the value of networking, which is a core outcome of the sport management program at Malone.
"The Sport Management Association (SMA) makes it possible for students to form their own network and gain internship and career opportunities as we head out into the real world," he explained. "The sport world is built on connections, and Malone faculty teach us fundamentals while SMA introduces us to opportunities."
Reese plans to put the skills and connections he's gained to use as he prepares for graduation.
"I want to continue working with football as I start my career," he said. "I hope to work in a similar capacity to what I did with the Rams, even in the college football sector. I know that football shaped me as a person, and if I can help an organization do the same for other athletes, I know I will enjoy my life's work."