MAKING DISCIPLES. Alumni couple challenges students to figure out their identities in Christ
Jason '02 and Suzi (Jeren) Lantz '00 challenged students in Community Worship to make the most of their opportunities at Malone, to engage the Church, and to figure out their identity in Christ—and their roles in the Kingdom.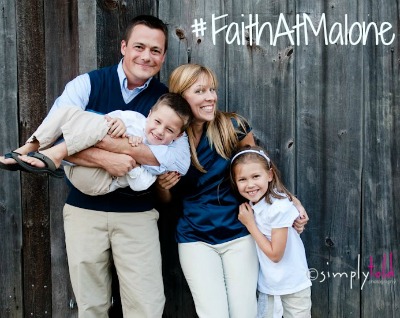 At Malone, Jason played football, led FCA, and attended mission trips to Kenya, Mexico, and Nicaragua. In fact, he is in Bolivia this week with Stadia, an organization that plants churches that intentionally care for children. Suzi ran cross country and indoor and outdoor track. She also was an RA and participated in other student ministries on campus.
Jason was hired upon graduation by Rivertree Christian Church, where he served in student ministries for several years. During this time, Suzi was a language arts teacher and cross country coach for Edison Junior High.
In 2008, Jason felt prompted by God to live out what he had been preaching at Rivertree, which meant getting more involved with the city of Canton. After Jason and Suzi became a part of various non-profit organizations throughout Canton, LoveCanton was born, a disciple-focused church made up of missional communities meeting all over the city. Jason served as the lead pastor of LoveCanton, while Suzi served as the missional community developer and resourcer. This continued until April 2014 when Jason was hired as the visionary leader of Rivertree Christian Church .
Jason and Suzi enjoyed their opportunity to speak at Malone.
"We wanted to challenge students to look at their current view of what church is and their role within a local body," Suzi said. "We believe that the church—the body of Christ—is God's plan to bring love and hope to the world. We get to be part of that."