Malone alumna finds success -- and love!
Alumna SaraBelle Hawkins '10, '12 was named co-owner of Atomic Dice Studio Arts in December.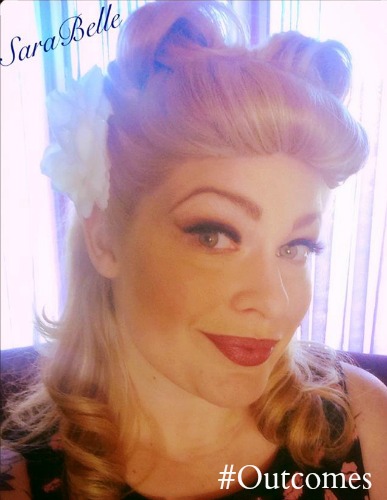 Hawkins was named co-owner with "Atomic Bob" McElroy in December of 2014. She graduated from Malone with both her B.A. and M.A.O.L. degrees, and manages the business's needs of marketing, digital imaging for apparel, website design, customer service, photography, and financial management.
Atomic Bob was recently featured on the Discovery Channel's television show, "Fat N' Furious: Rolling Thunder" Season 1, episode 4. "Fat N' Furious" follows Boardman's Tommy Christmas and his crew at Christmas Automotive as they transform rusty, forgotten muscle cars into works of art; Atomic Dice specializes in pin striping cars and motorcycles, and creating illustrations, logo designs, garage art, and fine arts – as well as painting on location at car shows throughout the United States, and teaching art classes to the community.
"I love being able to work as a team with Atomic on a company that is based on inspiration and creativity," said Hawkins. "We have big dreams for our business, and hope to expand the business by building the Atomic Dice as a brand through his undeniable talent and my marketing skills."
With his cuffed jeans, slicked back pompadour hairstyle, and Chuck Taylor sneakers, and her vintage hairdo, red lipstick, and artistic flair, the company is particularly noticed for its 1950's style – and also enjoys giving back to the community by donating art and time.
Last month, Atomic Dice Studio Arts were at an event raising money and awareness for the Autism Society of Pittsburgh that had a special twist – McElroy proposed marriage to Hawkins, asking her to be his partner in business and in life.
She said yes.
The pair married on February 4.