Malone alumna making a difference
It's said that necessity is the mother of invention.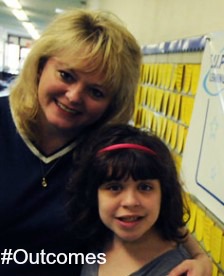 A number of years ago, local educator, mother, and current Malone University graduate student Lyn Goodwin decided to homeschool her daughters Ashley and Alyssa. Alyssa struggled with cognitive learning delays and dyslexia due to an extremely traumatic birth.
Lyn researched instruction methods designed to help learners with special needs, and Alyssa flourished. Word of their progress spread, and soon she was fielding calls from other parents, asking her to teach their children.
"I had dedicated my teaching degree to the Lord," Lyn said. "Our pastor told me, 'You don't have to make a plan for your ministry. Your ministry will make a plan for itself.'"
Lyn began taking in additional students with special needs and S.U.P.E.R. (Students Using Proven Educational Resources) Learning Center was launched with one certified teacher, one volunteer parent, and 14 children. Administrator was Lyn's husband, Kirk, who tragically lost his life in 2012.
Today, the S.U.P.E.R. Learning Center is the area's leading facility for children with autism from early childhood education through high school, serving 32 school districts in Northeast Ohio.
The Center includes a sensory wing, library, computer lab, a physical cognitive skills training room, and an outdoor recreation facility. It serves students with Asperger's syndrome, autism, Down syndrome, Fragile X syndrome, central auditory processing disorder (CAPD), dyslexia, attention deficit disorder (ADD), attention deficit hyperactivity disorder (ADHD), post-traumatic stress disorder (PTSD), traumatic brain injury, and other diagnoses. To date, more than 1,100 children have found their learning abilities at S.U.P.E.R.
And Alyssa? As a college student pursuing a degree in special education, she is the Center's first success story.
Lyn's philosophy is simple.
"This is what you do as a Christian educator when you've got a hurting child," she said.