Malone BSN graduating class passes NCLEX exam at 90% rate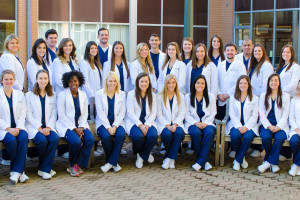 Consistent with last three years, members of the 2020 Bachelor of Science in Nursing (BSN) graduating class have passed the National Council Licensure Examination (NCLEX-RN) on their first attempt, achieving a 90% pass rate. According to the National Council of State Boards of Nursing, the most current national average pass rate is 89%.
"We are so proud of our graduates," said Deb Lee, Dean of the School of Nursing & Health Sciences. "This is an awesome time to be teaching, mentoring, and walking alongside nursing students at Malone while we watch our legacy of academic excellence continue to grow. I am thankful for the contributions made by the Malone community to support our students' transformation in becoming the best nurses they can be for Christ's Kingdom."
First time pass rates for Malone's BSN program continue to steadily climb; since 2017, the University's BSN graduating classes have averaged 97% first-time pass rates for the NCLEX-RN.