Malone community embraces Tiqvah's mission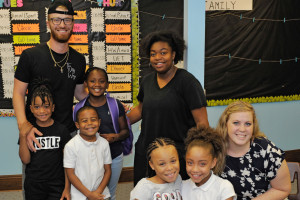 Tiqvah Hands of Hope is a local non-profit with a mission to serve the students of Canton City Schools by giving them a safe space to grow and feel the love of Christ. Their mission aligns with Malone's commitment to serving the church, community, and world, and many Malone alumni and students choose to give their time and energy to help Tiqvah be the hands and feet of Jesus. Currently on staff are DJ Williams '19, Tig Held '91, Ashley Moore-Dunson '17, Brian Adkins '16, Abby Komar '19, Emma Hayward '21, Amanda O'Hanlon '22, Xavier Moore '21, Katie Corbit '21, and Natasha Perry '20.
"Our staff and volunteers are the core of the organization," said Lesley Doan, executive director of Tiqvah. "Loving others through their hardships requires a heart that is seeking after Christ, and the personnel from Malone demonstrate that kind of love. They truly want to love others the way that Christ loves them and they are intentional about living that out through their work."
Moore is a junior Pastoral Ministry student at Malone and the junior high and high school boys' team leader at Tiqvah.
"Our amazing staff is family-oriented because we not only share a common passion for living out the Gospel, we also share the same college experience through Malone," he said. "This cultivates a safe and fun ministry and work environment for everyone."
Tiqvah provides students with hot meals, hygiene opportunities, homework help, clothes, and classes and activities with curriculum based on biblical principles. Their hope is to help students find their identity in Christ and purpose for their futures.
"My favorite part about working at Tiqvah is definitely the kids," said Moore. "Walking in each day and having them run up and hug you is very rewarding. It shows that relationships have been established and that they trust us and feel safe, which is what we're all about."
Doan is grateful for the impact that Malone alumni and students have had on the community they're cultivating.
"Demonstrated by their actions, Malone staff and volunteers help our students develop healthy views on life, even when they see something as different from their own beliefs. I always say that we challenge our students' reality for the better. Malone students have been invaluable to our organization and we treasure them as individuals and as the leaders they are becoming."
Learn more about Tiqvah here