Malone Graduate is "Dragon Keeper"
It was from a young age that Pollyanna Smith '21 wanted to work with animals.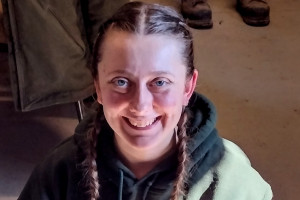 "I always wanted pets, and my parents were really supportive. They encouraged me to research the animals so that I could best care for them, and they trusted me with a lot of responsibility," said Smith.
As a result, Smith grew up with a menagerie of animals including the standard fare of dogs and cats, and more unusual offerings like chameleons, bearded dragons, snakes, and even a pony.
Pollyanna followed this love and passion for animals to Malone.
"It is really unusual to find a college with a zoology program that is Christian. Malone was right where I needed to be. They recognize that science and religion are not separate, but they work together," said Smith.
First acquainted with Malone through the Zoo Camp, she met many professors and members of the Malone community before starting her college career. Also, wanting to be close to home in Deerfield made Malone the perfect choice for Smith.
After graduating from Malone's zoo and wildlife biology program, Smith obtained a job at the Ark Encounter in Williamstown, Kentucky. Her lifelong love of reptiles, a love that began at 7 years old after first encountering a komodo dragon, set her up perfectly for her position as a "dragon keeper."
This title fits Smith well, as her knowledge and experience with reptiles is apparent.
"A lot of people don't know this, but reptiles are actually very trainable. I'm working with a tegu right now, teaching it to go to targets and climb up my arm. I can't really explain why I love reptiles so much, but I just do. They're awesome, and I get to experience the beauty of God's creation every day," said Smith.
Even though reptiles are harder to care for due to their specific needs, Smith has no problem rising to the challenge.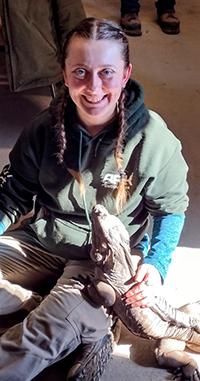 "I'm able to take a multitude of skills and lessons learned at Malone, like conducting research, animal training experience, and animal husbandry and put them into practical use," said Smith. "I use these skills everyday when I work at the Ark."
Not only did Malone offer practical, hands-on classes, but also classes that emphasized communication and dialogue.
"Our creation and evolution class was awesome," Smith said. "It really helped me understand all sides of scientific debate and, as a result, I can have beneficial conversations with people no matter where they fall."
Not only does Smith feed, care for, and train a number of reptiles, but she also works with hoofstock and arachnids when the team needs her to.
"Our team at the Ark is very close-knit and supportive, so it was an easy transition from a place like Malone, which is already a small, supportive community," said Smith.
Malone was uniquely positioned as a place to help Smith connect her growth in her faith and her preparation for a future career in a way that was vital to her current success.
"I always wanted to be a missionary and a zookeeper, and I wondered how I could do both. Now, it's my daily job. It's going to take an act of God to get me out of here," said Smith.
Smith hopes to continue working at the Ark and eventually become a fulltime employee in the reptile department.