Malone graduate leaves legacy of service and looks toward similar future
Megan (Raines) Tschantz '22 had her college plans figured out a little bit sooner than most.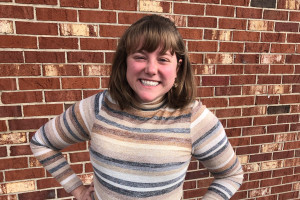 "I determined at age 13 that I was going to Malone - I was pretty decisive. I also knew I wanted to be in a helping profession, so I chose social work," said Tschantz. " I found later in my studies that God revealed a gift of teaching as well, and that led me to add educational ministry as a second major."
Tschantz has been able to utilize this combination of majors to minister in a variety of contexts.
"At First Friends Church in Canton I've been the intern with the children's ministry, working with 1st through 5th grade students making curriculum and running programming, and I also worked as the program director at Camp Gideon for just about two years," said Tschantz.
While most of her work has been with younger age groups, as Tschantz grew and was challenged at Malone she also found that her strengths allowed her to work with Malone students in ways she didn't expect.
Most recently has been Tschantz's efforts with the Center for Student Success (CSS) and the "Hire a Pioneer" campaign.
"As I began my internship with CSS, Anna Meadows, the director, gave me the debrief about their offerings, and part of that was career resources. However, they didn't have anyone to spearhead programs related to those resources," said Tschantz. "One of the ideas I came up with was the social media campaign 'Hire a Pioneer' that would encourage students to sign up for individualized appointments pertaining to job skills and resume help. I realized that there wasn't something that was individualized for students, and sometimes students need that individual help to fill in the gaps."
The "Hire a Pioneer" campaign was a success in its inaugural year, with 20 students signing up for appointments, and multiple students already receiving job interviews.
Tschantz wasn't just seeking to help fellow students professionally, but she also was concerned with their holistic health.
"Another goal that Anna had for the CSS was running an SFO that could help reach students concerning mental health, because ultimately mental health affects academic success," said Tschantz. "This SFO would be another holistic resource, in addition to other resources on campus like counseling, to show students how all aspects of their life connect spiritually. I was able to use my experience in curriculum-making to help create the program, and it was cool to get our students to view themselves, and their success, as a holistic process ordained by God."
Tschantz, with so many concurrent projects and goals, credits her highs and lows at Malone as laying the foundation.
"I think that learning from my failures and struggles was huge. I came in very confident, and then at Malone some of my ideas were challenged, which was good," said Tschantz. "I didn't get every position or spot in an organization that I applied for, and I wondered if Malone was a place where I would thrive. But through that, God showed His different plans for me, and I was able to find my own niche and the right place where I was supposed to be and how I could reach the most students. It ended up being beyond what I could have done in different roles."
Now that Tschantz has graduated, she looks forward to a continuing life of service.
"I am now the CSS graduate assistant, and I've also been, as of very recently, hired part time at First Friends Church," said Tschantz.