Malone Graduate Secures Two Veterinary Positions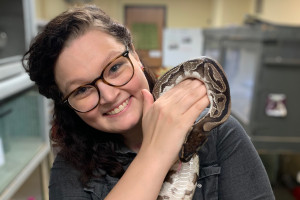 Maddy Olson '20 had an opportunity that zoology students only dream of: to secure not only one job but two jobs in a difficult job market. In July 2020, soon after graduating amidst the COVID-19 pandemic, she was hired at the Metropolitan Veterinary Hospital in Akron, a 24/7 veterinary emergency practice.
"It was definitely a God-designed occurrence," Olson said. "I was struggling to find a job because of COVID-19 restrictions and state hiring freezes, but I trusted that God would open doors where I was meant to be. After applying for more than 45 jobs during quarantine, I was finally accepted at the Metropolitan Veterinary Hospital."
Olson works as a veterinary assistant and a case coordinator who manages incoming cases for an assigned doctor. She communicates with clients, admits and releases patients, administers medication, and draws blood, among other responsibilities.
In addition to her role at Metropolitan, in November 2020 Olson was also hired as a full-time veterinary assistant at Turkeyfoot Family Pet Center in Akron. She chose to shift the majority of her focus from ER to general practice to alleviate her stress level and maintain positive mental health. She now works at Metropolitan when her schedule allows.
"I plan to balance these opportunities while I pursue a master's degree in conservation biology. I would love to teach at the college level and eventually get a Ph.D. to be a full-time professor," she said.
Olson faces stress and is sometimes unable to save a patient, but despite unorthodox conditions, she loves both of her jobs.
"My favorite parts are experiential learning opportunities with the unique illnesses or injuries that my patients come in with," Olson said.
Her zoo and wildlife biology courses such as Comparative Vertebrate Anatomy and Physiology, and her involvement in the theater program, have helped her to succeed in the workplace.
"Malone has prepared me for the technical aspects of my job, such as laboratory work, diagnostics, and X-rays," she said, "as well as the communication and leadership aspects that I utilize when case coordinating and corresponding with the doctors and clients."
Olson hopes to pursue the Master of Science in Conservation Biology online program through West Alabama University beginning in January 2021.