Malone Helped Rebecca O'Meara '07 See the Big Picture
The idea of social work can often conjure images of one-on-one or family meetings in which a social worker helps their client achieve a higher standard of life.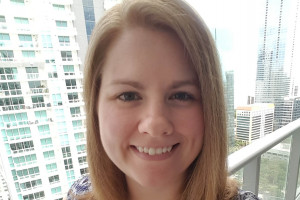 This is the same vision that Rebecca O'Meara, a 2007 social work graduate, had.
"I didn't really know what a career in social work would look like for me, and Dr. Jane Hoyt-Oliver was so instrumental in helping me to understand the different levels of social work," said O'Meara. "We have what we call micro-social work, and we have macro-social work which is where I find myself; more in administration, data, policy, and planning, looking from the top down to see how you can help organizations help people more effectively."
Just as O'Meara's idea of social work changed, so too did her idea of the college that would be right for her.
"I originally did not want to attend Malone because my older sister (Laurie Williams '01, now starting her 22nd year teaching public school) went to Malone, and I had been in her shadow all through high school . However, it was a campus visit to Malone and learning about the amazing social work program that really changed my plans," she said. "The focus on community and the size of Malone was really appealing; Malone was big enough but not too big, and there is a real feeling on campus that this place is something special."
Once she started at Malone, O'Meara didn't doubt her choice for a second.
"It's been so fun to think back about my time at Malone. I loved Air Band, all the community events, living on campus was full of great memories and friends, and the support structure and community there is amazing. Celebration and the chapel opportunities were always really special," she said. "And, of course, the educational foundation was solid as well. I appreciated having the liberal arts requirements and not just being funneled into social work classes only."
The joy of her comprehensive education and experience was highlighted by O'Meara's experience with the Chorale.
"Chorale is at the top of my list. We became a family because we spent so much time together, and I don't think a lot of schools have those types of relationships and opportunities. This was all grounded in my faith too, which is the most important foundational aspect for me, because I was then able to tie my work back into that as a motivating factor," she said.
Now, in a new role with the National League of Cities, O'Meara carries the lessons and community that she experienced at Malone into her professional life to serve communities across the country.
"I am working with the health and wellness team at the Institute for Youth, Education, and Families as the program manager for healthy housing. We're launching a local action challenge and community of practice for cities, towns, and villages across the country who want to develop a plan for improving their housing stock," she said. "The bulk of my professional career has been in preventing and ending homelessness, and now I'm bringing my prior work experience with communities and local continuums of care, who are bringing together organizations, the nonprofit sector, local governments, state and federal resources, and the faith community to work together as one to try and achieve system change."
These opportunities weren't always readily apparent to O'Meara until she received guidance through internships.
"I had no idea that something like that existed until Malone helped me explore and identify unique opportunities for my senior year internship. I got to work with Community Building Partnership in Canton and through that I also worked with Hammer and Nails," said O'Meara. "I was able to see the connection between the grant writing and funding and the actual change that happens when you paint the wall of a house or repair their roof, and the impact that it has on someone's life. Those experiences really fueled my passions and the direction that I went with my career to help communities and people flourish where they are."
This process, while necessary and rewarding, can also pose its own challenges.
"It can be challenging to bring people together across barriers in a system that is well intentioned but difficult to strategize with. My program is on the ground level and getting rolling, but organizationally we work with municipalities of all sizes," she said. "I was at a meeting in Atlanta recently and there was a woman representing her very small town in Texas that had just built their first city hall building ever. She was sitting right next to someone from New York city. It's amazing to see that collaboration in NLC. Who else could have that kind of reach to bring together people like that?"
Just as Malone guided O'Meara on a path she didn't necessarily expect, she encourages others to take advantage of Malone's unique position as a university.
"Current students face so many unique challenges and issues, and yet we all have similarities we can draw upon. It's so hard being a student, because you have a plan and life rarely turns out that way," she said. "Life won't go exactly how you think it will, and that's okay. Your faith and life ends up stronger for it. At Malone, our social work verse was Micah 6:8, and in times of confusion or uncertainty it's a great reminder of peace and simplicity."