Malone joins in a strategic partnership with the Evana Network
The Indiana-based collective of pastors and churches is committed, as Malone is, to advancing the wider Kingdom of God in practical and meaningful ways.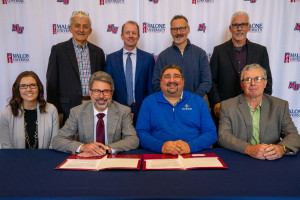 "I am excited about our new partnership with Evana because I know we can provide support to their membership that is unique to Malone," said Greg Miller, president. "We are the only non-Mennonite organization with whom they're partnering, and more than 50 churches will be added to our core constituency as a result of this relationship."
The Evana Network invites people to faithful living in Jesus Christ by forming and enabling congregations to be healing and sending communities. They offer a wide range of resources and support to help churches effectively engage with their local community, including leadership development, assistance with church planting, Leader Huddles, a prayer ministry, and a variety of webinars and seminars that are aimed at equipping congregations to be effective Gospel witnesses and conduits of God's grace.
"We're committed to work together for Christ's Kingdom as Malone educates students from their churches and serves as a resource for their organization in support of their mission," said Miller. "I know we will be stronger together as a result of this partnership."
To learn more about the Evana Network, visit www.evananetwork.org