Malone offers a SmartStart and a warm welcome to Multicultural Students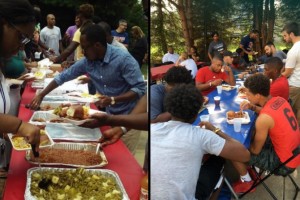 During Orientation, multicultural students are invited to a special event hosted by Brenda Stevens in which they are treated to a home-cooked meal and meet student leaders. This year's leaders are Tanaja Davis, student director of Multicultural Services; Keith Harris, president of Multicultural Student Union; Patience Ayuba, president of MISA; Joseph Soza, president of the Latino Student Union; Ryan Cartwright, president of One Voice Gospel Choir, and SmartStart Coordinators DeAndre Slappy, Nathaniel Sheppard, and Elisha Cooper.
For 17 years now, Director of Multicultural Services Brenda Stevens has spent much of Orientation week preparing food: from-scratch macaroni and cheese, green beans, rolls, peach cobbler, as well as chicken and ribs. On the Sunday evening of Orientation, she hosts a Multicultural Student Mixer as a warm and friendly welcome to students.
"We like to give students that one last home cooked meal with a side dish of prayer and a pep talk," said Stevens. "When minority students are coming to Malone for the first time, it's helpful for them to realize there are students who look like them. It's good for them to have that initial visual when they first come to Malone."
What started off as a few students gathered in Stevens' basement has grown to 60-70 students on her back patio.
Incoming students also have an opportunity to meet student leaders and the programs that are available to multicultural students, such as the SmartStart program, a mentorship program designed to help first-year African American and international students become acclimated to the Malone University community with activities designed to enhance students' academic, spiritual, social, and professional growth.
Mentors are available on the second floor of the Randall Campus Center (The Barn) daily.
Senior Criminal Justice major Nathaniel Sheppard, one of the SmartStart coordinators and mentors, enjoys the event each fall.
"I like showing the freshmen what a friendly, family-like atmosphere it is and that we're here to help them adjust to college," he said. "As a student athlete, it can be hard to balance basketball and studies, so I help in any way I can."
Senior DeAndre Slappy has not missed the Multicultural Mixer for three years.
"I enjoy the community – and it's great to find students of a number of different races together in one place to show students that we are here for them and here to help them succeed in every way possible," said Slappy, also a SmartStart coordinator.
The business administration and accounting double major was mentored by older students and has enjoyed the opportunity to pay it forward. A role model for students, Slappy is applying to graduate school and will take his CPA exam post-graduation.
And next August, he just might join the other alumni who welcome Malone first year students at Mrs. Stevens' home. He's confident she'll even let him take home some delicious homemade peach cobbler.