Malone professor named to yStark's Twenty under 40! list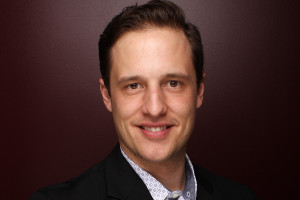 When Associate Professor of Communication Arts Jason Moyer and his wife Stephanie moved to Canton seven years ago, they were committed to the "theology of place" and determined to live wholeheartedly in their community. Since their move, they have started a family that includes a preschooler Wesley, and infant daughter, Eloise.
Yesterday, Dr. Moyer was honored with the distinction of being named to the yStark's prestigious 2019 Class of Twenty under 40! Nominees are selected based on career acumen, community service and trusteeship, and personal and professional achievements. The Twenty under 40! Selection committee is comprised of business and community leaders representing a range of industry sectors from around Stark County.
"I'm excited to receive the award and to see what opportunities to serve the community come next," said Moyer.
In addition to chairing the Communication, Visual, and Performing Arts Department at Malone, as well as serving on various committees such as Worldview Forum Council, the General Education committee, and was recently elected to the role of faculty senator for next year; Moyer is vice president of the board of trustees at Canton Montessori school and actively involved at his church, Summit Mennonite, where he has chaired the board and helped build a relationship with the Barberton Area Community Ministries, a large food pantry and resource center for people in need. Nationally, he has served on the board of The Mennonite, Inc., a national magazine for Mennonite Church USA, for 12 years.
Of living in Stark County, Moyer said, "I love the convenience of the town and the conversations that I have with the people. My son Wesley and I ride our bikes around town, to school or through Stadium Park. My family loves to go downtown to eat or check out the latest event. And I love working at Malone where we think of ourselves as servants to the Canton community."
He named Stadium Park, Monument Park, and Taggart's Ice Cream Parlor as three of his favorite spots in Canton.
"My son and I love to ride our bikes from Stadium park down to Mother Goose Land and the skate park that is south of that. We also love Canton Montessori School which has provided a second-to-none education for our son," he said. "We enjoy small events like the West Park Neighborhood Association's annual picnic and large events like the Pro Football Hall of Fame festivities, especially the parade. Most of all, we enjoy the community of people that we've become apart of since we moved here in 2012. "
Moyer and 19 other Stark County young leaders, including Cliff Varian '05, '13 will be recognized at the 12th annual Twenty under 40! awards gala in June.