Malone student organization partners with Strengthening Stark and Stark Parks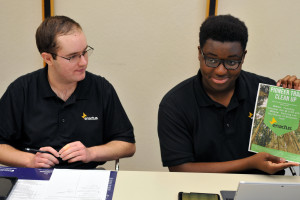 Enactus is a global organization made up of business, academic, and student leaders that aims to create a better, more sustainable world. Malone's Chapter of Enactus is eagerly serving on the local level by putting their mission into action through local partnerships with Stark Parks and Strengthening Stark.
Strengthening Stark's goals for developing a vibrant, growing county aligns with the goals of Enactus. The Malone team recognized that a partnership could help them work towards their individual and shared goals, so they identified areas of focus within the Strengthening Stark organization where they felt they could make meaningful contributions throughout the 2020-2021 school year. The team first began working on the Stark Career Connect initiative by creating how-to podcasts that could be used by individuals needing assistance with obtaining a job or seeking advancement in a career. The first episode focused on how to be successful at a virtual career fair that was held on October 28 and hosted by Strengthening Stark.
Throughout the spring semester, Enactus will continue to work with Stark Career Connect by conducting research on communication mediums so that local organizations that are hiring workers can effectively connect with unemployed community members. Additionally, they will work with Stark Education Partnership to determine strategies for increasing enrollment at local universities and coordinating with Smart Stark to determine how enrollment barriers can be overcome.
Another area of interest to the team is green initiatives, so they pursued a partnership with Stark Parks. One such effort, which brings their service back to campus, is the ongoing maintenance of the Pioneer Trail (a path that connects Market Avenue to Cleveland Avenue along the perimeter of Malone's campus) by conducting trail cleanups four times a year.
"Our Enactus organization is enthusiastic about these partnerships because they align with our organization's mission and Malone's Pendle Hill Pledge ensuring that all students have the opportunity for experiential learning," said Enactus President Stephen Kamph '21. "It is incredible to be able to serve the community while also applying classroom concepts so our team can work together to identify solutions for our community's challenges. It is an honor to lead an organization that is fulfilling the mission of Malone University in many ways."
Enactus meets weekly on Malone's campus and is open to all students who want to network with others, advance their professional skills, and help strengthen Stark County.