Malone students excel in business simulation
How do American students stack up against their peers in the world market? Pioneers are finding themselves at the top, thanks to a simulation activity with college participants from around the globe.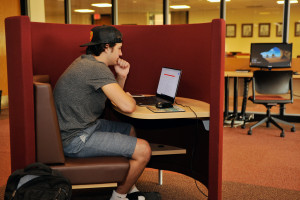 Adjunct Professor Charles Engelhardt is using a sophisticated online simulation called "GLO-BUS" in his senior-level Strategic Management class. With GLO-BUS, participants are assigned to run a digital camera company in head-to-head competition with their peers in the classroom and the results are compared to other teams from all over the world. The companies compete in a global market arena, selling GoPro-type cameras and drone cameras online to retailers in Europe-Africa, North America, Asia-Pacific, and Latin America.
"The value in this type of competitive simulation is that it brings together various business disciplines so students can experience how they work together and how decisions in one area may impact results for another," Engelhardt said. "Through GLO-BUS, students work with the limited resources that real businesses face and experience how allocation of those resources provides a competitive advantage or disadvantage. In addition, since the GLO-BUS competition takes place over several weeks simulating years of operation, students discover first-hand how decisions we make today can limit or expand our options in the future."
Students make all decisions about the products' quality, functionality, and production. They determine wages, benefits, bonuses, and incentives for the production teams. They also determine the marketing promotions, duration, and which stores in which they will sell across the world.
For the simulation, students are divided into teams of three. To be ranked, teams need to be in the top 100 out of approximately 3,000 teams worldwide.
"This semester we have six teams representing Malone in the GLO-BUS competitions and, as of this week, our students have received Top 100 Honors 17 times. What I find especially impressive about that is not just that this is a high number of successes, but that Malone has had five different teams this semester bring home Top 100 honors," said Engelhardt. "The success of multiple teams reflects the culture of excellence we are developing here at Malone."
During the week of November 9, four Malone University teams combined to take seven spots among the GLO-BUS Top 100 Performers. Malone was also represented in all four of the categories measured by GLO-BUS. Those teams and categories were:
1. Earnings Per Share:
Forget About It Industries (28th) Student Co-Managers: Bryan Yoder, Marcus Ernst, Jaret Majestic, and Tyrus Jones
2. Return on Equity:
Company C (50th) Student Co-Managers: Evan Balzano, Steve Tome, and Alayna Watson
Forget About It Industries (88th) Student Co-Managers: Bryan Yoder, Marcus Ernst, Jaret Majestic, and Tyrus Jones
B Excellent Photography (98th) Student Co-Managers: Matt Mazey, Preston Stanley, and Garrett Young
3. Stock Price:
Forget About It Industries (22nd) Student Co-Managers: Bryan Yoder, Marcus Ernst, Jaret Majestic, and Tyrus Jones
Company E (100th) Student Co-Managers: Alexander Chilupe, Nate Mongiardo, Travis Morgan, and Abby Reynolds
4. Overall Score:
Forget About It Industries (80th) Student Co-Managers: Bryan Yoder, Marcus Ernst, Jaret Majestic, and Tyrus Jones