Malone students victorious among Stark County colleges in "Battle of the Brains"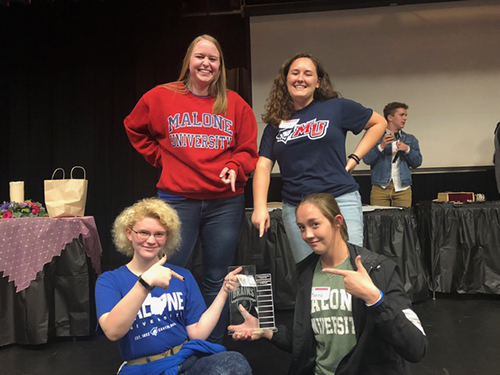 In the "Battle of the Brains," Malone's quad of Honors Program students performed exceptionally well, bringing home the trophy to Canton's college.
"It was such a fun way to get to know each other and build relationships," said Marina Rarick '20, who captained the team. "I participated last year, and got to know the student who led it and she became a mentor to me and so helpful in my thesis project. This year, I met a first-year student as well, and I hope to do the same for her. It's meaningful to know that you have people in your corner and to know that you share similar goals and interests."
According to Rarick, the first year student, Emilee Sanor '22, became "the secret weapon we didn't know we had," after participating in many similar events in high school.
The "Battle" is hosted by The College Club of Canton, and is a Quiz Bowl open to students from Kent State Stark, Stark State, University of Mount Union, Walsh University, and Malone. Both event admission proceeds and a silent auction benefit the Club's interest-free scholarship loan programs. The organization has also awarded more than $800,000 to more than 300 Stark County women who are 25 and older and are working to complete the final year of their baccalaureate or are seeking a master's degree. Alumna novelist Amanda Flower '02 will be the featured speaker for an event on February 16.
An integrated social studies major, Rarick is working on her Honors thesis as a junior so that she can student teach her senior year. She will research the role of women from Southeast Ohio in the Civil War, and hopes to contribute new research to the topic. As a history buff, Rarick was the 'go-to' for the history questions. Sanor's specialization was music, Camryn Ottey '21, a zoo & wildlife biology major, was the standout for science, Taylor Bernard '21, for psychology and literature.
"The students represented Malone very well in all sorts of ways, not just by winning," said Steve Jensen, co-chair of the Honors Program. "It was a fun event."