Malone University again recognized as one of the best universities in the Midwest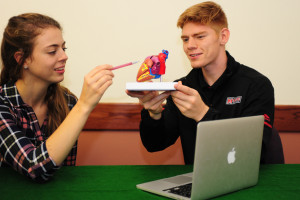 Malone University is once again recognized as one of the best colleges in the Midwest by U. S. News & World Report in the magazine's annual ranking of best colleges in the country. Malone was recognized in the listing of the Best Regional Universities in the Midwest (#53), Best Colleges for Veterans (#31 tie), and Best Value Schools (#12).
Institutions listed as Best Value Schools are selected based on a calculation of the school's academic quality, as indicated by its 2020 U.S. News Best Colleges ranking, and the net cost of attendance for a student who received the average level of need based financial aid. To be considered for this honor, Malone successfully ranked in the top half of the Midwest Regional Universities category (53 out of 114). The ratio of quality to price accounted for 60% of the score, the percentage of undergraduate students receiving need-based grants made up 25% of the score, and the remaining 15% accounted for the average discount of total cost.
"Third party endorsements confirm what we already know, that Malone is one of the best values in all of higher education," said Malone President David King. "It's heartening to see that determination made by outside parties based on data. Members of our community know this by seeing the outcomes of our transformational student experience."