Malone University, City of Canton earns National Community Development Award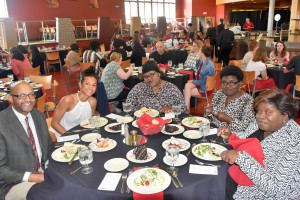 Through a collaborative partnership between Malone University and the City of Canton Community Development Department, "Stepping off to College" was recently recognized with the Audrey Nelson Community Development Certificate of Merit Award, presented by the National Community Development Association.
"Stepping off to College" prepares high school seniors enrolled at Canton City Schools McKinley High School and the Timken Early College High School Program for a smooth transition to higher education.
Participants have been accepted to college and visit Malone's campus on a monthly basis in the spring semester to prepare for college through hands-on workshops and interactive panels.
Dean of Retention and Student Success Beth Clark-Thomas leads the program efforts and Casey Quinn, College & Career Connector serves as the high school liaison.
"Anything we can do to help our community's students be better equipped for college is a tremendous investment into their future," Clark-Thomas said. "We believe in our students and are excited to see them succeed, not just in college, but in life."
Programming was created as a result of Clark-Thomas' survey findings, which pointed to feedback on what first-year students wish they had known coming into college. Participants met with career counselors and utilized job assessment tools to determine skill sets, interests, and what kind of majors may best suit them. They interacted with representatives from 5/3 Bank and Malone's financial aid office to learn about budgeting, debt, the FAFSA, and credit card accounts. Current college students also led teams of participants in The Amazing College Race, where they made stops at interactive stations around campus to help them understand residence hall communities and student resources.
Each spring, the program culminates with a celebratory banquet recognizing the students who complete the program and provides them with a "tech package" including a laptop and clothing voucher to help them prepare for their college transition.
"We're confident that this investment in the students' futures will produce citizens that will continue to make Canton a great place to call home." said Canton Mayor Thomas M. Bernabei.