Malone University competition field named to honor David and Winnie King
The Malone University Board of Trustees is naming the Institution's new competition field in honor of retiring President David King and his spouse and University Ambassador Winnie King.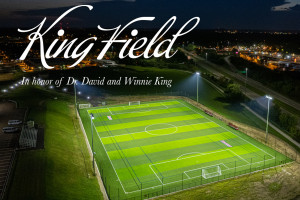 The facility, home to the University's soccer and lacrosse programs, will from this point forward be named King Field, in honor of Dr. David and Winnie King. King is retiring after 10 ½ years as president.
King Field, part of the Pioneer Park athletic complex, is located adjacent to Route 62 on the Malone campus. Total cost of the competition field was $1.6 million and was made possible through funding from the Hoover Foundation, Bill and Pearl Lemmon, Premier Bank, and Malone alumni and friends. The facility was open for intercollegiate practice, play, intramurals, recreation, and free play at the beginning of the 2021-2022 academic year.
"The Board is pleased to recognize David and Winnie's service by naming the competition field in their honor," said Rod Neuenschwander, chair of the Malone University Board of Trustees. "They worked tirelessly and continually to raise the funds for the installation of the competition field and their love for Malone students is well known. The facility has enhanced the student experience and serves as an extraordinary asset for the recruitment and retention of students."
"We will be forever grateful for this recognition by the board," said David King. "Winnie and I were blessed to be a part of the effort to make this addition to the Malone campus possible. Good friends stepped up to finish the funding for the facility, which has been so well received by all who have used it. Knowing our name will remain on the field is heartening and a source of joy for both of us."