Malone University invests in an adaptable and responsive plan for fall instruction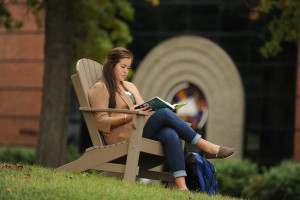 Malone University officials announced on May 20, 2020 that the institution will return to face-to-face instruction in the fall with responsive and adaptable options created to meet the current and emerging needs of students. Beginning in the fall, each class will be offered in a manner that can accommodate students who have different needs and changing needs that result from COVID-19. The plan combines face-to-face instruction with synchronous and asynchronous learning options in every classroom. The university is investing in classroom adaptations to make the instructional plan possible.
"The fourth foundational principle of Malone University calls us to love our students," said Malone President David King. "We are once again demonstrating our love for our students by developing a plan of instruction that meets their individual needs. No student will be excluded. We will ensure that they can continue on their path to a Malone degree."
While face-to-face will be the default mode of instruction, the plan offers responsive options that will allow students and faculty to work together to select the best option for each student.
"Our plan of instruction can simultaneously accommodate students in the classroom, those who must be synchronously remote, and those who must be asynchronously remote" said Provost Greg Miller. "Students may also change from one method of instruction and back again, depending on their emerging needs due to COVID's impact on them or their family. Because our plan is adaptable and accessible, we will be able to continue to mentor our students to their best outcomes personally, spiritually, and professionally."
Other elements of the fall instruction plan for fall include:
Modifications to classrooms to ensure that classes can be taught in compliance with social-distancing protocols.
While the vast majority of Malone classes are small, larger lecture classes may be taught with staggered instruction – some in person, some online – to minimize classroom density.
Special accommodations for students and faculty who are especially vulnerable to the impact of COVID because of existing health conditions.
Maximizing the availability of single residence hall rooms.
Modified dining options which include food preparations which are compliant with Center for Disease Control, adapted Dining Commons seating to adhere to social-distancing protocols, and carry out meals.
Enhanced and continued deep cleaning of all gathering spaces including the dining hall, library, fitness center, worship center, study spaces and classrooms.
"We are already hard at work to ensure that our students can return to an environment that reflects the best direction from the CDC and the Ohio Department of Health," said Chief Student Development Officer Melody Scott. "We are also following the recently published guidelines of the American College Health Association. Our desire is to accommodate any student who wants to live in community with us at any given time."