Malone University receives seven-figure gifts in support of Pioneer Park, a multi-field recreation and athletic complex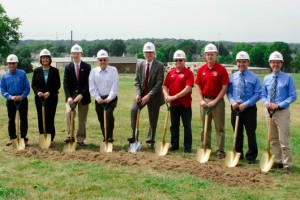 Ground was broken yesterday for construction of Pioneer Park, a multi-field recreation and athletic complex planned for university-owned property adjacent to State Route 62. Malone University received two gifts exceeding $1 million each in support of the project.
Canton based DeVille Developments has donated more than $1.5 million in addition to more than 150,000 cubic feet of soil to be used for the project. Mike Thompson Sr., Chairman & President of the Montrose Auto Group, has donated more than $1 million for construction of a baseball facility at the Pioneer Park location.
"We're blessed to have extraordinary community partners in Roger DeVille and Mike Thompson Sr.," said Malone President David King. "They are great friends of the institution and their gifts will enhance the experience we provide for our students while serving as an asset for the greater Canton community. These individuals are investing in Malone, in our students, in our community, and their generosity is remarkable. We will ensure that they are recognized long into the future for all that they are making possible through their gifts."
When completed, Pioneer Park will provide three new fields with lights. Two of the fields will be used for soccer, lacrosse, softball, and football as well as intramurals, club sports, and recreational activities. The third field will be a baseball field for the Div. II Malone Pioneers, while also serving as a tournament site for Greater Canton area baseball teams. Malone is also proud to be part of a collaborative effort to bring a summer collegiate baseball team from the premier Prospect League and make Pioneer Park its official home. This effort is being spearheaded by Thompson and Malone Head Baseball Coach Tom Crank with the intent of making the 2018 summer the inaugural season for the new collegiate summer wood bat baseball team.
"It would be hard to overestimate the impact Pioneer Park will have on Malone University," said King. "The facility will forever enhance our offerings to students as a site for intercollegiate play, club sports, intramurals, and recreation. Pioneer Park will have an immediate impact on our ability to recruit and retain students by providing state-of-the-art spaces for competition and practice. Our focus from the beginning was to build a facility that would be available to everyone in our community, and that plan will go forward and be implemented. But Pioneer Park will impact more than just the campus community. We will make certain that the resources of Pioneer Park available to our neighbors and partners, thereby attracting visitors to Canton and serving as a revenue stream for our institution."