Malone University students place third in international film competition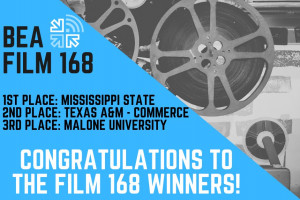 The Broadcast Education Association (BEA), the largest media academic organization in the world drives insights, excellence in media production, and career advancement for educators, students, and professionals. Their annual Student Clubs Film 168 Student Film Competition seeks to feature the best of the best, and in 2020, Malone University students, under the team name Open Frame Film Lab, ranked #3 for their film submission "Naked Bonds."
In light of the pandemic, this year's competition was formatted as a 168-hour (seven day) film festival. The teams were assigned the genre of comedy and were provided with "production constants" that were required to appear in each #BEAfilm168. Entries were created between October 12 and October 19, 2020.
"Congratulations to the winners of this year's competition," said Heather Birks, executive director of BEA. "Each student media club who participated in Film 168 exhibited extraordinary creativity, particularly in the midst of a pandemic, and the results were truly impressive."
Winning teams will receive certificates during the 2021 spring semester and special "sweet treat packages" to help them celebrate their winning entries. Their work will also be showcased at BEA 2021 and they will receive complementary convention registrations.
"I am immensely proud of our team of students for their success with the Flim 168 Competition," said Sangsun Choi, assistant professor of media production. "Their hard work, long hours, diligence to public health while they prepared their entry, and support of one another is truly inspiring."
Choi, a visual storyteller whose work focuses on an ethnographic approach to social minorities and vulnerable people, has presented his work at film festivals worldwide including Athens International Film and Video Festival, Big Sky Documentary Film Festival, RiverRun International Film Festival, Wisconsin Film Festival, ETHNOCINECA-International Documentary Film Festival Vienna. He is a two-time winner (Best of Festival-King Foundation Award 2020, Best of Competition Award 2018) at the Broadcast Education Association (BEA) Festival of Media Arts. Also, he is the recipient of the Distinguished Faculty Award for Scholarship at Malone University in 2019.
Open Frame Film Lab, Malone's student team, ranked nationally alongside others from Mississippi State and Texas A&M. Team members are:
Jacob Garwood '21
Connor Jones '23
Graham Kondak '23
Christian Sanko '20
Skyler Shannon '24
Makayla Smith '21
Myriah Smith '23
Aubrey Younger '24
Media Gallery
Behind the scenes