Malone University welcomes students with traditional academic convocation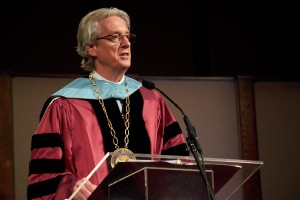 Yesterday, Malone University welcomed students and honored President's, Academic Honors, Visio Scholarship recipients, Honors Program students, the Great Midwest Academic (GMAC) All-Conference Team, and the Spring 2018 Dean's List Honor Students during Academic Convocation.
"No matter who you are or where you came from, you are welcome here, and we're glad you're here," said President David King.
King challenged the Malone community with the questions, "What disturbs you? What inspires you? What gives you hope?"
He implored the students, faculty, and staff to gain inspiration from what disturbs them, and that as they follow the calling that Christ has on their lives, to use the voice that God has given to them.
"Acknowledge the disturbance. Use it to embrace inspiration," he said. "Serve with hope. Be a merchant of gift-giving. Be that deep and close friend to others who serves as a source of inspiration and hope."
Participating in the ceremony were Levi Muriuki, organist, the Malone University Chorale, Rev. Linda Leon, Provost Nathan Phinney, and Student Body President Nicole Ostrowski.
Associate Professor of Biblical Studies T.C. Ham wrote a benediction blessing students:
May you find joy and satisfaction in learning, both in and out of the classroom.
May your love for neighbor grow to become acts of service toward others, especially to those in need around you.
May you find bonds of friendship in this fellowship of learning at Malone University.
May you discover a calling for your life beyond a career.
As you continue to discover yourself and the world around you…
May all of your dreams become acts of faith.
As you pursue your studies in these halls of learning…
May every morning shine on you the light of hope.
As you engage deeply in our community…
May you find true joy in bonds of friendship and love.
May the Father Almighty bless you and nurture your faith!
May our Lord Jesus Christ be the foundation of all of your hope!
And, may the Holy Spirit guide and empower every expression of your love!
So, in faith, hope, and love…
May the Lord bless all of your endeavors this year and all the years of your learning, fellowship, and service!
Amen.
2018-2019 President's Scholarship Students
President's Scholarship recipients must have a high school GPA of 3.6 or above, and an ACT score of 26-36, complete all admissions requirements, participate in Scholars Day, and be selected as one of two Scholars Day winners.
Alexandra Hanshaw
Hannah Robinson
2018-2019 Emma and Walter Malone Scholarship Students
Honors Scholarship recipients must have a high school GPA of at least a 3.6 and an ACT score (or SAT equivalent) of 26 or higher.
Jenna Beakas
Easton Black
Michael Bontrager
Nicholas Bush
Kathleen Carroll
Noah Clifton
Grace Coakley
Jacob Conner
Ashlyn Doudna
Kolby Duke
Jaiquan Findley
Isaac Gann
Christine Gotts
Mallory Harmon
Rebekah Hennigh
Austin Hill
Ethan Hunt
Nicholas Jubara
Madison Justice
Ashlynn Koeppe
Michaela Lee
Jocelyn Miller
Isaiah Nicholas
Danielle Norton
Matthew Parker
Savannah Pew
Alexis Price
Nolan Rentsch
Stephen Rose
Danielle Roshong
Emilee Sanor
Dakota Sayre
Taylor Sloan
Benjamin St John
Christian Stark
Ethan Sulek
Isabel Swym
Samantha Tinsley
Emily Troyer
Amy Vanlew
Jillian Vicknair
Adelheid Weber
Alexandra Wolfanger
Joshua Woodward
2018-2019 Honors Program Students
The mind occupies a central place in the Christian life; for example, Jesus calls us to love God not only with heart, soul, and strength, but also with our minds (Mark 12:30), and the transforming power of the Gospel becomes effective in our lives largely through what St. Paul calls the renewing of our minds (Rom. 12:2). The Honors Program at Malone University exists to support Malone's intellectually gifted and highly motivated students as they respond to this aspect of Christ's call, and as they move to transform themselves and their world as followers of Jesus Christ.
Noah Abel
Sarah Abshire
Eric Baker
Erienne Ballard
Jenna Beakas
Katie Bender
Taylor Bernard
Easton Black
Michael Bontrager
Michelle Brackett
Faith Brenneman
Ruthanne Brooks
Olivia Brown
Grant Burke
Adrienne Burns
Kathleen Carroll
David Chapman
Noah Clifton
Grace Coakley
Marissa Cooney
Daleen Cowgar
Alyssa Crowley
Ashlyn Doudna
Kolby Duke
Madison Flading
Kaela Geither
Amy Gellings
Olivia Goldinger
Margaret Hamrock
Alexandra Hanshaw
Rebekah Hennigh
Adriana Hershberger
Austin Hill
Benjamin Holcomb
Cheyne Jenkins
Nicholas Jubara
Madison Justice
Leah Keim
Ashlynn Koeppe
James Kontur
John Krichbaum
Scott Markle
Maria Martin
Nicholas Michels
Jocelyn Miller
Jessica Morgan
Amber Murphy
Thu Nguyen
Danielle Norton
Madison Olson
Camryn Ottey
Matt Parker
Savannah Pew
Alexis Price
Marina Rarick
Zachary Rearick
Kendall Reidenbach
Julia Reiss
Chirstin Rine
Caley Ritts
Hannah Robinson
Christian Sanko
Emilee Sanor
Abigail Shoaff
Justin Smith
Benjamin St John
Christian Stark
Samantha Tinsley
Emily Troyer
Amy Vanlew
Jennifer Vicknair
Jillian Vicknair
Madison Williams
Emily Willis
Breanna Woods
Joshua Woodward
2018-2019 Visio Scholarship Students
Visio Scholarship recipients must exhibit outstanding leadership qualities and be invited to compete for the Visio Scholarship by presenting their vision to current student leaders, staff, and faculty as well as alumni.
Karly Bruce
Braydon Dotson
2017-2018 Great Midwest Academic All-Conference Team
(3.30-4.0 GPA)
Malone University student-athletes excelled in the classroom last year as 70 student-athletes were recognized on the 2017-2018 Great Midwest Academic All-Conference Team. In order to receive the award, an athlete must possess a cumulative grade point average of 3.30 or higher on a 4.0 scale and must have reached sophomore athletic AND academic standing while completing at least one full academic year at the nominating institution.
Baseball
Cody Ballay
Roscoe Blackburn
Zach Mottice
Eric Mullet
Matt Noel
Chandler Stahl
Dyllan West
Jordan Yoder
Men's Basketball
Mitchell Spotleson
Women's Basketball
Ellen Doyle
Dani Drayer
Naomi Grandison
Keri Hill
Chrissie Vaughan
Sydney Wentling
Football
Matt Blasiole
Blake Cary
Brenson Ennis
Tyler Howell
John Iacucci
Marcus Moeller
Drew Shreve
Ryan Weber
Keith Williams
Jonathon Zimmerly
Women's Golf
Kailee Perkins
Deidra Sauernheimer
Men's Swimming & Diving
Markus Brunzel
Noah Curl
Men's Golf
Kyle Barnett
Jacob English
Chris Koza
Vincent Leone
Cale Pozderac
Mark Schlabach
Ryan Sikora
Men's Soccer
Gino Finelli
Stephen Radonjich
Josh Sample
Women's Soccer
Annie Boyle
Megan Fuller
Danielle Giles
Kirsten Hilty
Brylee Jones
Hannah Masloski
Haleigh Seman
Lindsey Soltisz
Melissa Soltisz
Jeanette Soricelli
Softball
Ashley Beck
Emily Beck
Samantha Fruchey
Maria Mokler
Kendall Reidenbach
Caley Ritts
Women's Swimming & Diving
Alex Dutton
Amber Gray
Nicole Kenny
Quincy Livchak
Kaylor Schuttinger
Jessica Slater
Men's Track & Field/Cross Country
Joshua Blakeley
Dan Carmany
Brian Cassler
Brett Cortelletti
Tyler Harroun
George McCartney
Brad Rammel
Chad Sanner
Lorne Strausbaugh
Noah Whittington
Women's Track & Field/Cross Country
Olga Branney
Hannah Campbell
Taryn Chapman
Elisha Cooper
Katie Grimes
Ashley Krieger
Maria Martin
Madelynn McDermott
Maggie Poorman
Dean Risley
Carolyn Skledar
Jade Smith
Page Svendsen
Hannah Thompson
Laura Tweedie
Rachel Wentworth
Erik Melekh
Nick Wertz
Volleyball
Hannah Eliason
Veronica Gehring
Maggie Hamrock
Faith Lau
Sierra Lau
Julia Marino
Spring 2018 Dean's List Honor Students
Congratulations to the Malone students listed below. These students obtained a Spring 2018 grade point average of 3.5 or higher.
Sarah Abshire
Logan Amoline
Eric Baker
Mary Grace Baker
Caitlyn Barrett
Dominick Batchi
Cameron Baylor
Emily Becks
Alexa Bell
Katie Bender
Rachel Berlin
Taylor Bernard
Nicholas Bianchi
William Blake
Maria Blasiole
Michael Boak
Alyssa Bogner
Michelle Brackett
Olga Branney
Ruthanne Brooks
Donald Brown
Olivia Brown
Sharon Bruce
Samuel Bruner
Markus Brunzel
Zane Bunnell
Grant Burke
Christopher Cannon
Lauren Cantor
Daniel Carmany
Stephanie Carson
Courtney Cearns
Nicole Chirambanegomo
Athena Cline
Summer Collins
Austin Coldsnow
Summer Collins
Cody Cook
Marissa Cooney
Elisha Cooper
Katherine Corbit
Brett Cortelletti
Savannah Courtenay
Rachel Crawford
Noah Curl
Alexandra Dalton
Emily Daulton
Tanaja Davis
Christina DeDecker
Sophia Delegato
Joseph DiBiasio
Jeffrey Dieringer
Ellen Doyle
Dani Drayer
Brittani Dunlap
Alexandra Dutton
Kaylee Dworning
McKayla Eberhardt
Ashley Edwards
Sarah Elum
Rose Eyerman
Troy Fairclough
Connor Ferguson
Nicole Ferrara
Madison Flading
Joseph Foos
Vaughn Foster
Zach Fresenko
Clara Friend
Megan Fuller
Logan Galbraith
Crystal Gasser
Hannah Gears
Veronica Gehring
Lauren Geiger
Kaela Geither
Amy Gellings
Alyssa Goodwin
Naomi Grandison
Amber Gray
Katia Gresh
Lauren Griggy
Kathryn Grimes
Leah Grimes
Kasey Haines
Katelyn Ham
Tyler Harroun
Carter Hartong
Emma Hayward
Jacob Hayward
Kirsten Hilty
Michelle Houston
Courtney Howell
Tyler Howell
Samantha Hudzik
Abigail Hughes
Ryan Hutchison
Taoni Irons
Ginette Jaramillo
Sierra Jennings
Delaney Johnson
Kerri Johnson
Brylee Jones
Kaylyn Jones
Kevin Jones
Samantha Jurkovic
Stephen Kamph
Julia Karmie
Hannah Kasler
Leah Keim
Matthew Kennell
Nicole Kenny
Anna Kilian
Amanda Kinsey
Hanna Kirchenbauer
Amanda Klinesmith
Bridget Kohls
Luke Kondak
James Kontur
Alexa Langenfeld
Christine Lankford
Faith Lau
Sierra Lau
Emma Lavelle
Cassie Leaver
Jocelynn Lenhoff
Vincent Leone
Brooke Lindenschmidt
Emily Lippincott
Zane Lowie
Keeley Malley
Scott Markle
Maria Martin
Susanna Martin
Catherine Martinez
Natalie Martorana
Hannah Masloski
Michael Mathieu
Emily Mattioli
George McCartney
Katelynn McDermott
Cheyann McGee
Sean McKinney
Abigail McManaway
Katelyn McWhirter
Erik Melekh
Micaela Michlk
Brady Miller
Serena Miller
Ashleigh Mitchell
Johnathan Mizener
Maria Mokler
Tyler Moomaw
Cade Mottice
Jacob Mottice
Zachary Mottice
Abigail Mower
Eric Mullet
Michael Murphy
Shannon Myers
Gina Nagella
Carolina Nakata
Josh Neer
Riley Nicholson
Courtney Nielson
Kayla Nieset
Matthew Noel
Teresa Noyes
Jillian Ochsendorf
Olivia Ogle
Nicole Ostrowski
Camryn Ottey
Samuel Pareso
Alison Patterson
Frederick Payne
Todd Payne
Courtney Pelham
Jasmine Penrod
Kailee Perkins
Karlee Pezzano
Nicole Prichard
Denise Quentin
Laurel Raber
Bradley Rammel
Matthew Ramsey
Marina Rarick
Leah Rauscher
Zachary Rearick
Nicholas Reese
Nicole Reeves
Kendall Reidenbach
Julia Reiss
Aubriana Ressler
Taylor Reynolds
Grace Rhoads
Jacob Rice
Jacob Rine
Dana Risley
Caley Ritts
Madison Roberts
Jared Royer
Ruvarashe Rumano
Joshua Sample
Christian Sanko
Chad Sanner
Noel Sanor
Rachel Santos
Jenna Saunders
Mark Schlabach
Brianna Schlegel
Allison Schmeltzer
Collin Schmid
Emily Schmidt
Emily Schroll
Kaylor Schuttinger
Ashley Seifert
Haleigh Seman
Audra Sharp
Melissa Sheets
Kyle Shepherd
Samantha Shisler
Jacob Shoup
Tyler Sims
Carolyn Skledar
Jessica Slater
Makayla Smith
Pollyanna Smith
Melissa Soltisz
Noah Sommers
Jeanette Soricelli
Benjamin St. John
Brian Starcher
Blake Stuckey
Paige Svendsen
Joanna Talley
Jairus Taylor
Kelsey Taylor
Courteney Thoenen
Alexa Thompson
Hannah Thompson
Katrina Tibbs
Katlyn Todd
Haley Tomlinson
Emily Trnka
Serena Tucciarelli
Sarah Udell
Tyler Ullman
Madeline Vallance
Christina Vaughan
Megan Walker
Sydney Wentling
Rachel Wentworth
Dyllan West
Julia Westall
Jacqueline White
Noah Whittington
Nicholas Wilhelm
Christina Williams
Keith Williams
Madison Williams
Chloe Willis
Kayla Worrell
Jesse Yost
Susanna Yourko
Ashley Zehr
Ellie Zumbach