Malone's Enactus Team accepting applications for "Shark Tank" funding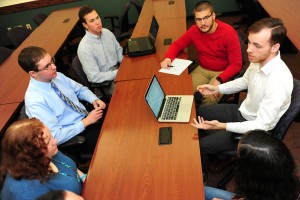 In its very own version of the reality television series "Shark Tank," Malone's student business organization Enactus is offering funding to support small businesses with awards of $500-$5,000 via a competitive application and presentation. The contest is sponsored by ComDoc.
Businesses, organizations, and individuals who work toward achieving any of the United Nation's 17 Sustainable Goals, such as providing quality education, promoting good health and well-being, partnerships for goals, and decent work and economic growth, will have the greatest chance of being selected as a finalist.
Applications should be submitted by January 10, and selected finalists will have the opportunity to present to the Malone student team on February 2.
"Enactus Shark Tank is an exciting, friendly, and entrepreneurial competition that seeks to find some of the most innovative organizations in Northeast Ohio," said Malone's Enactus chapter president, Chad Mallory. "Enactus has a long history of partnering with organizations that are purpose-driven, and work to make a difference in the world. Our chapter is looking forward to connecting with all the amazing organizations throughout the competition process."
The mission of the Malone Enactus is to develop teamwork, communication, and project management skills, always practicing and teaching the principles of entrepreneurship, empowering those in need on our campus, in our community and in our world.