Malone's Heritage Edition of The Saint John's Bible seven volume set complete
Although the original has returned to Saint John's University in Collegeville, Minnesota, visitors to the Everett L. Cattell Library can continue to enjoy The Saint John's Bible through the Heritage Edition – one of only 299 meticulously done reproductions.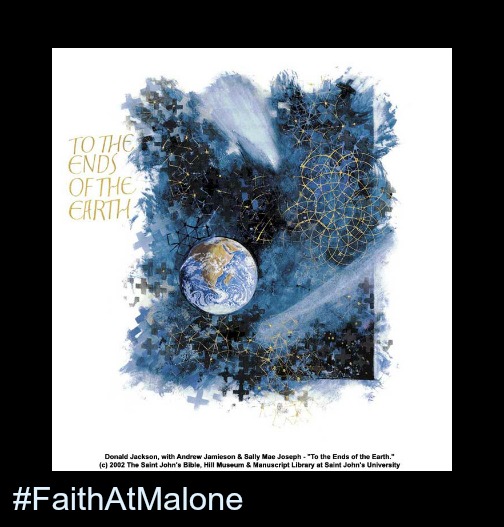 The Saint John's Bible is the first handwritten, illuminated Bible since the invention of the Gutenberg printing press more than 500 years ago. Fifteen years in the making, it is the culminating achievement of a team of scribes and artists under the direction of Donald Jackson, calligrapher for HRH Queen Elizabeth II. The original is made of calfskin vellum using traditional materials and techniques to ensure that the Bible will last for centuries. Last Christmas, Malone collaborated with the Canton Museum of Art to bring this magnificent work to the Northeast Ohio community.
The Bible, measuring two feet tall by three feet wide when open, includes seven volumes in all: Gospels and Acts, Pentateuch, Psalms, Prophets, Wisdom Books, Historical Books, and Letters and Revelation. An eighth volume offers behind the scenes commentary. The final volumes recently were delivered to campus, making Malone's set complete.
"It has been a privilege to give presentations on the Saint John's Bible to the Canton community, the Malone community, the Church community, and in the classroom," said Joel Soza, professor of biblical studies. "But I have been especially blessed by personal study of the Saint John's Bible. It has succeeded in its mission of 'turning up the volume of the biblical text' and 'igniting the spiritual imagination.'"
The Bible is on permanent display during regular library hours.