Men's Cross Country Team named GMAC Champions; Women take fourth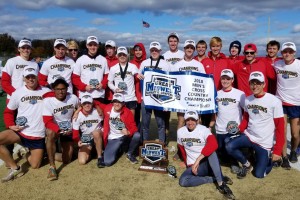 The Malone University men's cross country team claimed a first-place finish while the Pioneer women took fourth at the Great Midwest Athletic Conference Championship Meet on Saturday at GlenOak High School in Canton.
After finishing runner-up at the G-MAC Championships by narrow margins the last two years, the Pioneer men secured their first conference title in the NCAA Division II era, edging second-place Walsh University by three points.
Malone, ranked 18th in the most recent NCAA Division II Men's National Poll, posted a total of 48 points. Walsh, the 20th-ranked team in Division II, notched 51 points and No. 17 Cedarville University was third with 58 points.
Head coach Jack Hazen was tabbed G-MAC Men's Coach of the Year following his team's impressive showing. The Pioneer men won 43 consecutive conference and/or district championship meets from 1968 through 2010 and then won an Ohio Independent Conference Title in 2011. The program then earned runner-up finishes at four straight Great Lakes Intercollegiate Athletic Conference Championship Meets from 2012-2015 and placed second at the G-MAC Meet in both 2016 and 2017 before returning to the top of the podium on Saturday.