MSN Program, Mercy Medical Center awarded grant for nursing educators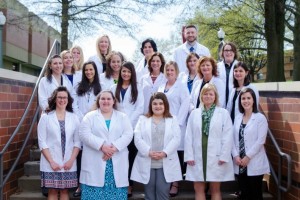 The Malone University School of Nursing & Health Sciences was awarded nearly $200,000 in grant funding for its Master of Science in Nursing (MSN) program by the Ohio Board of Nursing for the Board's 2017-2019 Nurse Education Grant Program (NEGP) cycle.
The purpose of the Nurse Education Grant Program (NEGP) is to address the growing shortage of generalist and advanced practice nurses (APRNs) within the State of Ohio by supporting growth in nurse education program enrollment capacity through efforts to attract students and prepare future nurse educators.
With the support of the grant funding, Malone University is partnering with Mercy Medical Center to launch a unique nurse-educator curriculum and expand the availability of clinical practice sites for MSN students. In addition, Malone will leverage grant funding to enhance its clinical learning facilities, fostering students' practice-readiness for the 21st century healthcare environment in Northeast Ohio and beyond.
"We appreciate the Ohio Board of Nursing and the support given to Malone," said Director of the Graduate Program in Nursing Kathleen Flaherty, Ph.D., RN, CNS. "We look forward to implementing our plan as we join with Mercy Medical Center to meet community needs for APRNs and APRN nurse educators."
Malone University currently offers the Masters of Nursing Science with two tracks: Family Nurse Practitioner and Adult Gerontology Acute Care Nurse Practitioner.
"Our partnership with Mercy Medical Center will strengthen student preparation and nursing practice at many levels," added Dean of the School of Nursing & Health Sciences Debra Lee, Ph.D., RN. "The potential benefit to our community members in terms of health care excellence is just one reason to be excited about this grant and our partnership!"