National achiever brings positivity to banking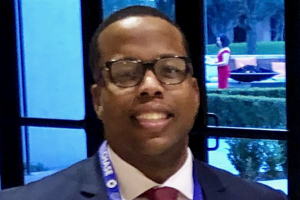 Dominic Wright '09 majored in Business Administration and had a minor in Economics at Malone. Since graduation, he briefly worked in the automotive business and cell phone business, but ultimately chose the banking industry, where he has worked for the past nine years.
As a business relationship manager at JP Morgan Chase, Wright works in northeast Ohio, specifically in Portage and Summit counties, with small business clients that draw revenue of 1 to 5 million dollars. In 2018, he was recognized by Chase as a national achiever. To be recognized as a national achiever, Wright was ranked in the top 5% in production for his job family in the United States. He received the award at Chase's national sales conference held in Dallas, Texas in February.
His success as a young professional has made Wright grateful for his time at Malone.
"My favorite part about Malone is the friendships I formed and still maintain. The relationships I built there have helped me tremendously and impact my life daily. Rev Gary Martin, Julia Frankland, John Zietlow, and the late Roy Ramsaroop are all faculty who helped me to grow spiritually and mentally and become the person that I am today," he said.
Wright recently returned to campus and spoke to current students in one of Frankland's classes.
"Dom was invited to speak in my Money and Banking class not only because he is excelling in his banking career, but because he can serve as a role model for current students," Frankland said. "He has maintained contact with me since he graduated and I've enjoyed watching him develop his professional abilities and support those around him. His positive outlook is contagious."
Outside of his life in banking, Wright also officiates NCAA DIII college football games, with the goal of working his way up to DI. He married his college sweetheart, Ruby (Olander) Wright '10, and they have three children, a three-year-old set of twin boys and a five-year-old daughter.