New singers invited to join Malone's High School Honors Choir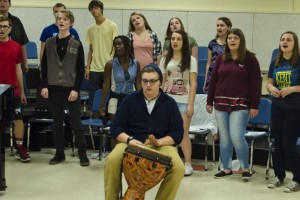 The Malone University Department of Music invites high school singers who enjoy choral music to participate in the High School Honors Choir, conducted by alumna Laura Haynam.
The Honors Choir, entering its third year, is open to singers in Stark County and beyond who want to perform challenging music and make friendships outside their school districts.
"We were looking for a unique way to build a bridge between Malone's music department and the greater Stark County community to allow us to serve as a resource," said Tim Bryan, chief of staff. "If these students complete each semester with fresh appreciation for choral singing and create new friendships outside of their immediate school networks, then we have succeeded."
Among other pieces, the singers learn OMEA Contest repertoire and perform once per semester.
"I'm excited to join the Honors Choir and to be working with these talented high school choral students," Haynam said. "I'm hopeful to inspire the same love of choral music and degree of excellence that was instilled upon me during my time as a Malone student."
Rehearsals are held every Monday night in the Johnson Center on Malone's campus, resuming on September 18. There is no fee to participate, but registration is required. For additional information and registration, visit https://www.malone.edu/music/high-school-honors-choir.