Old becomes new again
Life Anew was released in 2015; design on the album jacket was created by Andy's wife, Amy, and features their oldest daughter, Betta.
For composers of the 16th century, one of the highest compliments among peers was to borrow and reinvent one another's melodies. Andy Black '09 did this with his debut album, Life Anew, and would sure make great hymn writers of the Church proud.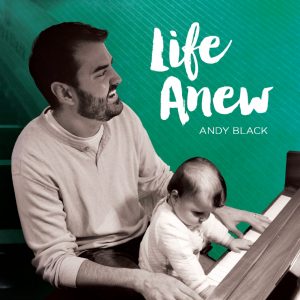 "The title of the album comes from my desire to humbly ask God to constantly fill me with new life," said Black. "I am passionate about giving hymns a broader audience, and hope to preserve their messages while breathing new life into them."
Black exceeded his $4,750 Kickstarter goal to fund his project, started recording shortly after, and was able to submit the full album for production a few months later.
"The Kickstarter process was a big encouragement because it tangibly showed me how loved and supported I am by my family and friends," he said. "I sensed their excitement to help me fulfill this dream, that they were willing to come alongside me to make it happen. Through this campaign, Life Anew became 'our' project instead of 'my' project."
The album includes 11 arrangements of hymns and one original song, "The One Who Saved Me." Black used New Renaissance Productions in Beloit to create the album, owned by his friend Christopher Duncan.
"The musical education I received at Malone deepend my knowledge of music theory, as well as technique I learned through Chorale rehearsals," Black said. "Come to think of it, I used a jazz chord progression from a music theory assignment as the basis for the final track on my album! Dr. Ayers would be so proud."
Black is the worship and administrative pastor at First Friends Church in Salem. Life Anew is available for streaming on Apple Music, Amazon Music, and Spotify.