One class at a time, Malone grad changed his life
Sometimes a lifestyle shift comes slowly over time, but for Jeffrey Hoehn it emerged from a moment of frustration and inspiration.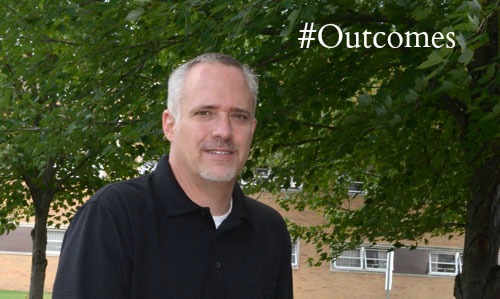 That inspiration quickly culminated with a management degree through Malone University's accelerated degree completion program.
Hoehn, a long-time small business owner, earned three years toward a degree when he was younger, but took a break to enter the working world and found it difficult to return and finish the degree. His business served Malone as a vendor, so he visited campus frequently.
"I happened to be at Malone on a particularly rough work day, and I decided impulsively in that moment to change my life," he said. "I knew my business experience would only take me so far and that I would benefit from having more education to back up my skills, so I literally dropped my tools and walked into the Admissions office. Within a couple days, I was registered to start classes for the fall semester."
Degree-in-hand, the experience was surreal for Hoehn. He appreciated the education he received in ways that a traditional-aged student may not.
"I wasn't the strongest student while I was in school all those years ago, but at Malone I was able to graduate with a 4.0 because I was driven to complete the work at a higher standard," Hoehn said.
Often, adult students are fearful to return to the classroom after a long time.
Hoehn offered this gem of encouragement:
"Yes, it's scary—there's no way around that," he said. "If you think of it as a lifestyle change for a moment in time, the task at hand becomes less overwhelming. One week at a time. One class at a time. The end result is so gratifying."